---
Only One way to Find Out: Step-Daughter Anally Trained By Busty Step-Mother.
Dee Williams is bouncing back from a nasty divorce, finally having found a hard cock worth serving with her skilled mouth, a firm hand to beat her juicy ass red, and a commanding voice worth kneeling for. The only issue is that the Master at hand is much younger, almost the same age as her bratty little minx step-daughter. A couple more months and Aspen will be at college and Dee will be able to live her anal slave slut reality full time, but until then she is determined to keep her little secret. Unfortunately for Dee, her new Master Seth doesn't care much for secrets and clamps her whore clit tightly, beats her ass with canes, flogs those big gorgeous tits a deep red, and still won't let her cum until she promises to tell her daughter about him. Satisfied with her word he bends her head backwards and fucks her throat and then slams her face down on the floor for a good anal pounding – And then Aspen comes home early to find her step mother face down ass up in the family living room. When Aspen comes skipping down the stairs the next morning and starts shit with Seth he smiles like a cat with a canary. Aspen calls him a gold digger and offers to fuck his brains out if he will leave the house and never come back, but he sees right through her bullshit to a curious little slut in training that just wants to understand what she saw in the living room the other day. Happy to oblige, he throws her over his knee and spanks her little cunt and bouncy ass while she learned to beg and give gratitude. Tied up, skirt tucked into her little pink panties, she gets on her knees to get her face fucked like a good girl when Dee hears a commotion and comes to join. Much to Aspen's astonishment, Dee doesn't care in the least, and quickly joins in to get her revenge fuck, cropping Aspen's young pussy and she bounces on her Step-Mom's new boyfriends dick. Smothers in her Mom's tits, she apologizes time and time again for trying to steal Seth's attention. A firm anal fucking throws her over the edge as she cums with her face in her mother's tits, screaming with pleasure. Now that everyone is on board, Seth takes this Mother daughter team for a real ride, tying them both up tightly and taking turns with each hole, enjoying himself sadistically with a zapper. Dee starts squirting like a fountain, and cumming like a whore, but it is Aspen that has the greatest release in this scene, getting pounded out and begging for cum like a filthy bitch.
Read More »
---
---
Buff MILF Cherie Deville Submits to Rope Bondage and Unwilling Orgasms
Raw sexual power. That is what oozes from the athletic and toned, MILF body of Cherie Deville. She takes immaculate care of herself and loves showing off her big tits and firm ass. She knows exactly what she wants and goes right to the source when she feels the need to be a sexual female slave. Cherie drags herself across the floor and begs The Pope to put her in her place. She wants to be a good girl but is so strong willed that she often fails to show proper submission and gratitude to her male doms. The Pope knows just how to train a wanton slut like Ms. Deville and wastes no time stripping her naked and humiliating her under his boot heel. He strings her up in tight and restrictive rope bondage. The appraisive hemp digs and cuts into her skin as she struggles and fights against being restrained in the bondage. But her efforts are futile. There is no escape from The Pope's dungeon once a female male submissive is captured. He toys with her and prods her gently with his massive man hands. Each touch elicits a whimper as Cherie anticipates the brutal touch of a stern taskmaster. The Pope begins to tenderise her body with a heavy leather flogger and works every inch of her skin over making sure to give complete attention to his piece of meat. She starts sweat and beg for mercy and The Pope abides and jams a vibrator on her wet pussy. She squirms and fights against the pain of multiple orgasms but The Pope is relentless and doesn't stop until he is satisfied. Next Cherie surrenders completely and gets tied up in a full suspension that leaves her hungry pussy vulnerable and exposed to The Pope's cruel attention. After withstanding the suspension Cherie bends over and sticks her perfect ass out so The Pope and spank it until it turns pink and raw. She screams and spasms as the orgasm after orgasm is ripped from her unwilling pussy. Eventually The Pope grows tired of her pathetic screams so he lies Cherie on her back so he can joke her out as he crams her tight pink pussy with a massive dildo. And finally after a full day of teaching, Cherie Deville is put in place as she lays panting in a pool of her own sweat and cum.
Read More »
---
---
Rogue Parole Officer
Xander Corvus is under house arrest and needs to talk to his lawyers about his inheritance before its too late. One morning while trying to get the newspaper in the driveway his ankle bracelet goes off and alerts his sexy blonde Parole Officer Alexis Fawx. Highly irritated that she has to come all the way out to his place the check on him (3rd time that week?) she makes a dirty deal with him: give me 20% of your inheritance and make me happy and I will remove that bracelet. Alexis is wearing a tight black business skirt with no panties, she spreads her legs to reveal her shaved pussy and asks Xander what his freedom is worth to him. Make me happy or go to jail. Needless to say Xander goes with making her happy so he gets down on his knees and worships her slutty pussy. With her legs spread wide open, black stiletto heels in the air, he slides two fingers inside and licks her clit and asshole until she is squirming and moaning with pleasure. He tears her shirt open to play with her huge tits while he eats her wet parole officer pussy. After Alexis has had enough she deactivates Xander's ankle bracelet off and says good day, but he grabs her and puts her in a sleeper hold so he can keep her for his sadistic pleasures. Bound and gagged with a blindfold over her eyes for sensory deprivation Xander gives Alexis some corporeal punishment with the flogger. He flogs her massive tits and her thighs, her firm lean body writhing around in pain. After a punishing flogging he throat fucks her until she is slobbering all over her badge. Then he ties her up tight on all fours in doggie and fucks her with his massive cock. Xander's dick stretches her tight little pussy out and then makes her clean the cum off. More flogging and fucking and a hot orgasm with the Hitachi. Next Xander mounts Alexis on his cock in reverse cowgirl on the couch. With her big tits bouncing and bulging around the rope he pounds her pussy up and down and all around until she squirts all over the place. He lays her down on her back for more hot non-stop cunt fucking. Alexis's clit is so swollen and aroused she cums again and again until Xander shoots his load into her mouth and all over her face. Watch sexy MILF Alexis Fawx go Rogue as the Rogue Parole Officer in this week's SAS exciting update.
Read More »
---
---
Blonde Buff MILF Helena Locke Made to Cum in Tight Rope Bondage!!
Helena Locke has an insatiable appetite. She is a hungry lady. She needs more. She demands more. Her expectations are high and frankly she is often let down. Her submissive's tremble at the spike of her stiletto heels and usually their whimpers are enough to satiate her depraved desires. However the sadistic front that she assumes as a stern task master to thankless men is all a facade. She secretly yearns to be put in her place by a real man. She wants giant hands choking her sassy throat and smacking her perfect ass until it glows an iridescent shade of nocturnal neon pink. She crawls into The Pope's dungeon and begs to be treated like a wanton whore who needs to be taught a lesson. And The Pope is only too happy to oblige. He wastes no time and strips her naked and ties her tanned skin and toned muscles with severe rope bondage. Blindfolded and helpless Helena is completely exposed to his sadistic fetishes. Nipple clamps pinch down on small and natural breasts. The Pope yanks on them mercilessly as he flogs her back with heavy leather flogger. She yelps and tries to cry out in pain but the gag in her mouth stifles her pleas for mercy. Now that he has her attention The Pope flips her onto her back and begins to tenderize the front of her body a thick vinyl club and a mean bamboo cane. He attacks her breasts and nipples and you can hear the wind as it rushes out of her taut and exposed lungs with every dull thud of The Pope's wicked tools of impact play. Then before she can catch her breath Helena is strung up in a full suspension with her legs spread wide open. Her exposed pussy and clit are like red bull's eyes and The Pope's laser sights focus on these tender targets. With a black leather riding crop he works her whore hole over making her squirm and scream as the endorphins rush through her body. Breathless and desperate for release Helena begs for mercy and The Pope obliges by cramming a vibrator onto her swollen and hungry cunt. The Hitachi relentlessly stimulates her to heights of pleasure as The Pope rips multiple orgasms from the depths of Helena's soul. Soon the orgasms become painful, unwanted, and overwhelming but once the flood gates open they don't stop. And just when she couldn't cum again The Pope flips her into a doggystyle position so he can focus on her divine and firm ass. He works it over and and turns it red with his gigantic man hands. Her pussy begins to drip as every spank makes Helena wetter and wetter. Her whole body trembles as she thanks The Pope for his attention. And in one last monumental quake of orgasmitic bliss, Helena cums all over The Popes fingers as he works her g-spot like a skilled plumper probing the hidden depths of Helena's darkest masochistic desires.
Read More »
---
---
Big Ass-ed MILF Richelle Ryan Trained and Fucked in Rope Bondage!!
Not every wanton whore can become an "O". Every so often an ass comes along that lacks the true discipline required to become an "O" but is so eager to gyrate and please that it melts the icy hearts of our handlers.. Case and point: Richelle Ryan. What she lacked in BDSM knowledge she made up for with a ceaseless, dogged determination to jiggle and twerk her perfect milf ass all day long. Her squeaky innocent voice didn't fool James and Tommy for one second. They both knew right away that this whore was a cock-gobbling, sex kitten that only wants more and more satisfaction. James puts her to work and gives her two tasks to learn throughout the course of the day. The first is to say please and thank you. The second -and my god did she ever take this commandment to heart- was to jiggle her ass and tits at all times. First she was tied in place standing upright and was shocked repeatedly with and electric zapper to get her engines moving. She learned to the balance of power and was able to quickly understand that what is good for Dom's is what is good for her. A crotch rope split her ass and pussy in two creating a harness for Tommy to grab so he could help her ass bounce. Once she was warmed up they threw her to the ground and shoved Tommy's massive cock down her throat. She gagged and drool oozed all over her tits and face. As soon as she could catch her breath, the cock would cram down her throat, making her whimpers of gratitude barely audible. But that only made her hungry for more. Her heavenly booty was then put on display so Tommy could fuck her tight pink pussy from behind. Crouched in a doggie position her firm and perfect ass gyrated as Tommy pounded her behind. Pleased with her gratitude and her commitment to shaking her ass, she was then allowed to lie on her back and take Tommy's dick as deep and hard as possible. She came over and over and just when her multiple orgasms couldn't possibly continue, Tommy blows a giant wad of cum all over precious tits. Breathless and sweating, she keeps bouncing and thanking her masters for their generosity. Richelle Ryan shakes her ass and tits all day long while restrained in rope bondage and fucked by a massive cock!!
Read More »
---
---
19 year Old Slut Teaches Anal Fiance How to Serve Daddy
Roman Nomar find himself in a serious bind when his sexy new bombshell girlfriend Cherie DeVille and tiny little 19 year old slut step-daughter end up in the vacation house at the same time. Cherie is a gorgeous MILF ready to get engaged, but is shocked to find out Ramon is secretly domming his little undisciplined step daughter with hard cock, tight rope suspension, and a strict flogging hand. After spying on Ramon fucking the laziness out of Gina and beating her with her science book in the guest house she reveals her dismay and find herself on the right end of Ramon's dominant hand. Turns out she was as turned on as she was shocked and wants to take a turn as the submissive. Face fucking, hardcore anal, electro punishment, and a strict spanking solidify her commitment to Ramon and builds her jealousy torwards Gina. She confronts the little whore and when she gets sass, drags that little brat into the basement rips her dress off, gives her a good hard spanking, and makes her lick her daddy's cum out of Cherie's ass. Unfortunately for this newly minted mommy dommy, Ramon catches her doling out discipline that isn't hers to give and hands Gina a flogger to get her revenge. Clipping Cherie's greedy cunt shit he fucks her ass good while her teen rival beats her red and then shoves her fist into her new step-mother's gaping ass while her Daddy fucks both their cunts. When it's Gina's turn, bondage, cattle prod and a cream pie finish the session, with Cherie sucking the cum out of her future step-daughter's used up pussy. Double penetration, anal fisting, and ATM seal the new bond between Gina and Cherie.
Read More »
---
---
Big 10 Summer Tournament Finale. Muscle vs Muscle
Cheyenne Jewel is our muscular red head cowgirl wrangler who has beat out one of our finest wrestlers, Mia Li, to make it to the finales. She is taking out our toughest wrestler, ranked #1, our hot, sexy muscular MILF, Izamar Gutierrez. This is intense 100% competitive grappling and sexual fighting at it's finest. The action is back and forth, with each girl getting leg scissor holds, submissions, chokes, sweeps, and throws. Both girls do rough fingering on each other, trying to make the other cum on the mats. When the buzzer goes off, we have a winner. The Loser is tied up in bondage, ball-gaged, stripped of her colors spanked, tit slapped and made to take a huge winner cock while the winner wears a strap on and torments her with verbal humiliation. While the winner fucks the loser's pussy, she sneaks a thumb into the loser's tight asshole to let her know who's boss. The winner face sits the loser and uses her face and mouth to climax to orgasm. The winner's big Beautiful muscular ass bounces off of the lips and tongue of the humiliated loser. The loser is thrown in to a beautiful doggy style position that shows off the losers curves and muscular physique. While the loser is in doggy position like the little bitch she is, the winner pulls her hair and fucks her hard. Since there were two submissions in the wrestling segment, the winner gets even with the loser by making her tap out to two brutally strong Leg scissor squeezes. The Winner is deemed the Summer Champion for 2017 and calls out Mistress Kara for next season! This sex fight is over but the battle isn't over. These girls will meet next season in another exciting sex fight competition.
Read More »
---
---

MILF vs Cowgirl
Today we are getting down to the wire. We have the Cheyenne Jewel who is a beautiful, muscular Cowgirl ranked 2nd in our Big Ten tournament. She is taking on Ultimate Surrender's favorite Bratty MILF, Penny Barber. Penny Barber has a brutal Giftwrap maneuver that most girls can not seem to figure out. Cheyenne Jewel has a bull like ability to push girls over and overpower them. Both of these beautiful wrestlers have fine asses and they use their asses to hold each other down. One wrestler takes the lead after ripping and orgasm on the mat from her opponent. The winner fucks the loser with the biggest dildo our strap on can handle. Loser is humiliated with hand gags, fisting, orgasm denial, hair pulling, spanking face sitting and ass smothering. The loser is fucked so hard in the ass, her asshole is left gaping open.
Read More »
---
---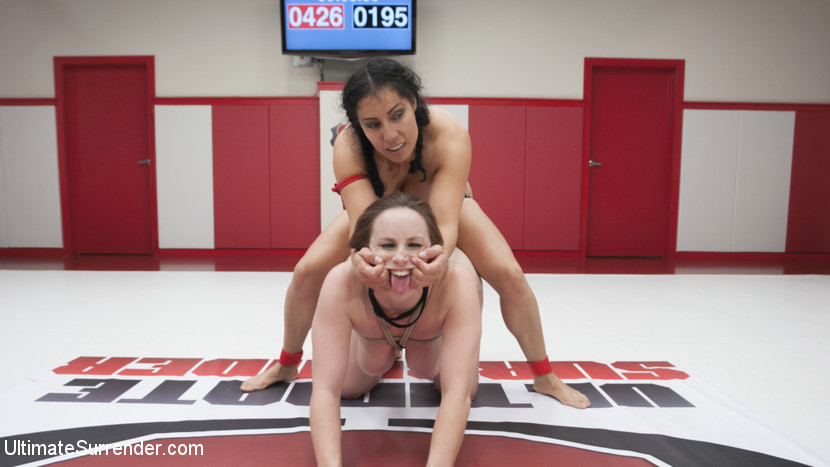 Big Round Latina Ass vs. Big Red Head Tits
This is ass vs. Tits today. We have two of our most powerful welterweight wrestlers on the mats today. The big ass, beautiful MILF latina, Izamar is ranked #1 in our tournament for the summer. She is taking on our #4 ranked wrestler, the beautiful, voluptuous red head with big bountiful tits, Bella Rossi. This match gives us something we dont' see a lot on Ultimate Surrender. A vet is made to cum with an orgasm on the mat. The score is close and after a technicality, the winner is determined. The winner puts the loser in bondage, ties up the losers tits with her wrestling bands. The loser is fully naked and humiliated with Spanking, Hair pulling, Fish hooking, Hand gags, choking, face slapping and hard strap on fucking. The technicality leads to some interesting antics and the winner and loser are giving the opportunity to have a good ole fashion, lesbian sex fight, using their bodies to make their opponent cum. The two girls trib fuck each other until they both are exhausted from orgasms.
Read More »
---
---
---
---
---
---
---