---
Sex Slave Astrid Star Submits to Rope Bondage and Extreme Fucking!
Fresh meat. Sadist extraordinaire Ramon Nomar is always hungry and when he laid his eyes on the innocent, submissive, and naive body of Astrid Star he drooled with desire. He wastes no time explaining the rules to Astrid and instead ties her up in restrictive rope bondage with her tiny pink pussy strapped tightly to a hitachi. He shoves a giant ball gag into her mouth to stifle her useless questions and pleas for mercy. Ramon slowly works her body over and examines her young and perfectly formed body. Her giant tits gyrate as Ramon beats her body with a heavy leather flogger and he pinches her taut skin with clothespins tied into a nasty zipper. He teaches her the day's first lesson: To beg for his attention. Astrid whippers some muffled words to articulate her desire to serve and please Ramon. When she finally learns how to beg for attention, Ramon tears the zipper off of her body and the slaps the tiny welts with his giant man hands. He checks to see how her pussy reacts to abuse and finds her wet with desire. She is a truly masochistic fuck toy and her greedy cunt only wants more attention. Ramon throws her to floor and jams his monster cock deep down her throat. The girth of his stiff rod barely fits into her mouth and she gags from the deep throat face fucking. Gasping for air she begins to learn the rules and begs Ramon to fuck her filthy mouth until she can barely breath. Grown tired of using her mouth as a fuck hole, Ramon ties her arms and legs to a table fucks her behind. His cock barely fits into her teeny pussy. She winces as the massive cock penetrates her for the first time. But, her pussy juices explode and Ramon begins to ram his all natural female slave with an intensity that pushes the table all the way across the room. Gasping for air she showers Ramon with platitudes and thanks him endlessly for fucking her. She begs to cum over and over but Ramon doesn't feel like she has earned that right. So, he flips her onto her back and ties one of her legs in the air so he can really stuff her cunt with his cock. As Ramon fucks her, he simultaneously hits her sensitive tits with thin and severe cane and then shocks her armpits with an electric zapper. Astrid is growing overwhelmed by all the different types of pain and pleasure that are flooding her senses. But a greedy whore only wants one thing; multiple unwilling orgasms, and Astrid begs her dom to cum. Fire burns in Ramon's eyes and he rips orgasm after orgasm out Astrid's pussy and she squirts all over herself. Ramon finally grows tired of his sub and blows a massive load of jizz all over her tits and pussy. He scoops it up and crams it into Astrid's hungry mouth and she licks every last bit of it up.
Read More »
---
---
The coyotes will have a feast; her valiva runs thick and copiously.
I am beside myself with this whore. She cringes at my attentions yet her body pulses, reaching out for more. This is the ultimate state and the final betrayal. Her mind and sense of self have hopelessly failed.
I readied her with a tight clam tie and placed her in the middle of the mattress. Implements of penetration surround the altar. Letting her stew for a couple hours will afford her the opportunity to amuse herself by imagining how they all will be used.
It was time for the trail. Blindfolded and guided by the rope cleaving her cunt she is yanked up the hill. Every step is a fright and her soles are jabbed by stubble and shale. Arriving at the grotto I bind her to a tree. Her skull hole is stuffed with two shop rags and sealed with packing tape. For added measure her jaw is sealed shut with a wrap over the top of her head. Her screams will barely be audible over the caw of the crows.
The crows are announcing a new arrival; the feast is at hand. Lets begin with some crimson life essence drawn as the whine of the mosquito fades in an out about her head.
Read More »
---
---
Only One way to Find Out: Step-Daughter Anally Trained By Busty Step-Mother.
Dee Williams is bouncing back from a nasty divorce, finally having found a hard cock worth serving with her skilled mouth, a firm hand to beat her juicy ass red, and a commanding voice worth kneeling for. The only issue is that the Master at hand is much younger, almost the same age as her bratty little minx step-daughter. A couple more months and Aspen will be at college and Dee will be able to live her anal slave slut reality full time, but until then she is determined to keep her little secret. Unfortunately for Dee, her new Master Seth doesn't care much for secrets and clamps her whore clit tightly, beats her ass with canes, flogs those big gorgeous tits a deep red, and still won't let her cum until she promises to tell her daughter about him. Satisfied with her word he bends her head backwards and fucks her throat and then slams her face down on the floor for a good anal pounding – And then Aspen comes home early to find her step mother face down ass up in the family living room. When Aspen comes skipping down the stairs the next morning and starts shit with Seth he smiles like a cat with a canary. Aspen calls him a gold digger and offers to fuck his brains out if he will leave the house and never come back, but he sees right through her bullshit to a curious little slut in training that just wants to understand what she saw in the living room the other day. Happy to oblige, he throws her over his knee and spanks her little cunt and bouncy ass while she learned to beg and give gratitude. Tied up, skirt tucked into her little pink panties, she gets on her knees to get her face fucked like a good girl when Dee hears a commotion and comes to join. Much to Aspen's astonishment, Dee doesn't care in the least, and quickly joins in to get her revenge fuck, cropping Aspen's young pussy and she bounces on her Step-Mom's new boyfriends dick. Smothers in her Mom's tits, she apologizes time and time again for trying to steal Seth's attention. A firm anal fucking throws her over the edge as she cums with her face in her mother's tits, screaming with pleasure. Now that everyone is on board, Seth takes this Mother daughter team for a real ride, tying them both up tightly and taking turns with each hole, enjoying himself sadistically with a zapper. Dee starts squirting like a fountain, and cumming like a whore, but it is Aspen that has the greatest release in this scene, getting pounded out and begging for cum like a filthy bitch.
Read More »
---
---
Alex Harper, Pretty Pale and Pliant
Bound on a square black table with skin as white as snow, Alex Harper is positioned on her back with a red ball-gag between her teeth. Her wrists are tied firmly to the table with rope above her head. Wrapped around the end of her long legs are several loops of rope binding her ankles together and to the ceiling making her look like a sexy backwards "L". Mogul fingers her asshole and flogs her bare ass and pussy then brings an assortment of insertable toys of diverse material. First a clear glass butt-plug is slowly inserted into her tight hole, letting us see inside and looking quite (as James puts it) lascivious. Next an inflatable black latex plug is inserted into her asshole and James pumps in some air and tugs on what looks like a black rubber tail. After the inflatable, a metal toy is popped in and out of her gaping ass with ease. Tommy Pistol enters the scene and enters her ass for the grande finale and pounds her hole hard while Mogul applies clamps to her pale pink nipples. In the next scene Alex starts in a standing position, her deliciously perky pale tits are tightly bound with rope. With her hands also bound behind her back, James helps Alex to her knees and the nipple clamps are applied once again. Tommy instructs her how to suck his cock and she follows his commands like a good whore. Good whores get rewards so a vibrator gets pressed on her clit while James sticks his thumb up her pussy and presses on her G-Spot sending her into an orgasmic frenzy, screaming with a mouth still full of Tommy's cock. In the third scene, Alex is completely naked on her back with her ass in the air, bound in a pile-driver position, ass already gaping. James whips her pussy with a crop and switches to a vibrator, going back and forth and makes her cum hard. Tommy fucks her cunt, pounding it like a jack-hammer while James crops the bottoms of her feet. Tommy then fucks her asshole again and cleans his dick off in her mouth. In our final scene, Alex is on her back spread-eagle. With one leg frog-tied and the other leg tied to the ceiling, Tommy fucks her pussy and ass until he cums, blowing his hot load all over her pretty face.
Read More »
---
---
Gorgeous Blonde Cadence Lux is a Good Whore
It's Cadence Lux's first training and she's ready to prove herself. She has a beautiful body, perfect breasts, legs for days, and expressive eyes. First, she is tied upright and spread eagle for inspection. She is gagged with a strap of leather and flogged all over. Once her gag is removed, the games begin. One of her legs is marked "Good" and the other, "Bad." Each time she is good, she receives a caning on the corresponding leg and vice versa. Cadence loves brutal, degrading treatment, and she cums hard, squirting, and since she asks for permission like a good girl, she receives a bright stripe on her "Good" leg. Next, she is bound in a chest harness with industrial clamps on her nipples. This good little cock whore delivers a messy spit-filled blow job. She strains against the ropes holding her back to choke on cock like a good little slut. Cadence is an enthusiastic cock sucker and ends up covered in spit and drool. For doing such a good job, she gets rewarded with orgasms and another stripe. Now the real fun begins. Bound on her elbows and knees, Cadence begs for cock as she gets flogged, spanked, and zapped. She loves getting her pussy filled and once she has a dick in her, she pleads for permission to cum until she is granted release. She cums hard multiple times on dick and is still hungry for more. Finally, the real and final test begins. Cadence is bound with her cunt exposed. Her nipples are clamped and attached to her toes. If she puts her leg down, her nipples will bear the pain. As she struggles to keep her leg upright, she gets fucked, flogged, and caned. Caught in between pleasure and pain, this greedy painslut cums hard. She keeps cumming through all the pain and impact play as her pussy is fucked, fingered, and vibrated. At the end of the day, it's clear: Cadence is not only a good whore, she's also a tough painslut.
Read More »
---
---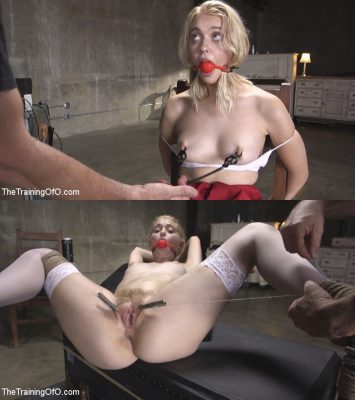 Chloe Cherry Gagged and Bound
Chloe Cherry sits, gagged and bound to a wooden chair in a red pleated skirt that's been pulled up to show that her hairy pussy has had an hitachi vibrator secured directly beneath it. Chloe's wrists are bound behind her back with rope and her milky thighs tied to the chair with leather belts. Black rubber pads are stuck to her upper-thighs pulsing electricity into each muscle. James Mogul has some questions and stands wearing knee-high black leather boots at the helm of this interrogation holding two potentiometers. One knob controlling the electricity and the other knob controlling the strength of the vibe, depending on her answers. Next we find our adorable blonde damsel squatting with her thighs bound to her ankles wearing only white thigh-high stockings, balancing on her tippy toes, her tits bound with rope, tied to the ceiling. Tommy pistol gets his cock ready in the background as James Mogul makes Chloe zap herself with electricity while he flogs her. Soon after, Tommy Pistol walks up and stuffs his cock deep down her throat covering her face and tits with her spit. Unhappy with her open-mouth blow job, Tommy strictly reminds her to keep her lips tight as James Mogul applies the nipple clamps once again. In the next scene we find Chloe on her back with her legs spread eagle bound with rope. Mogul attaches two clothespins to her pussy and rips out an orgasm with an old fashioned vibrator pressing it on her exposed clit. Tommy comes in and fucks her pussy and ass deep and hard going back and forth. In the final scene Chloe is placed on her knees with her thighs tied to her calves and her ass is fucked fast and hard until she begs for his cum.
Read More »
---
---
The Upper Floor Returns With a Squirting Slave Fuck Fest.
Our favorite BDSM swinger crowd returns for a new S&M party with the incredible masochist and squirting slut machine Melissa Moore to induct into the House. It's a war of the good girls, as Kira Noir and Melissa Battle it out over who is the most submissive cock sucker, the most willing to bend her will, take the pain, and give her orgasms to The House. Bound in rope, their nipple pulled tight with clover clamps, both sluts are made to answer the House's questions while not cumming in an athletic squat. The submissive whore not being interrogated sucks off a guest of honor with a huge cock while the crowd get's hot and bothered, ready to make scenes of their own. It is determined that Melissa wins this round and steals all the cock for herself while Kira only gets the tip. Davey is back from last year with her playmates Endza and Jessie Sparkles. Tied to the ceiling, whipped and made to lower her dripping wet cunt onto Enza's fist, Davey is truly a bottom to be reckoned with. Her clit piercing is attached to a chain leash with with her lither body is controlled and made to cum under the pain and fisting. Davey isn't the only submissive to get a fist. Melissa Moore is an ejaculating little slut who has never had a fist in her until this night. As she cums uncontrollably for the House Aiden Starr slips a fist into her tight little pussy for the first time. Melissa's face is priceless as she reaches back to feel for how much is in her and end screams with shock. She then cums like a good little whore, soaking her Mistress' tits with hot squirt. Meanwhile the other guests are getting busy. One submissive girl gives her entire head of hair to her Master, allowing him to cut all her hair off and beat her ass bright red. Dominant rope ropes are suspending gorgeous women left and right, slutty swingers are blowing eachother and cumming in all the corners, and one of our favorite couples Dragoness and Eric are no exception. Shy and beautiful Dragoness chokes and gags on her Master's gigantic cock and she entertains the crowd with her hot body and submissive fucking. She is a beautiful girl, and looks even better with a hot load of cum on her face. Look forward to more parties, and especially part two of this incredible party. The gangs all back together again.
Read More »
---
---
Big Ass-ed MILF Richelle Ryan Trained and Fucked in Rope Bondage!!
Not every wanton whore can become an "O". Every so often an ass comes along that lacks the true discipline required to become an "O" but is so eager to gyrate and please that it melts the icy hearts of our handlers.. Case and point: Richelle Ryan. What she lacked in BDSM knowledge she made up for with a ceaseless, dogged determination to jiggle and twerk her perfect milf ass all day long. Her squeaky innocent voice didn't fool James and Tommy for one second. They both knew right away that this whore was a cock-gobbling, sex kitten that only wants more and more satisfaction. James puts her to work and gives her two tasks to learn throughout the course of the day. The first is to say please and thank you. The second -and my god did she ever take this commandment to heart- was to jiggle her ass and tits at all times. First she was tied in place standing upright and was shocked repeatedly with and electric zapper to get her engines moving. She learned to the balance of power and was able to quickly understand that what is good for Dom's is what is good for her. A crotch rope split her ass and pussy in two creating a harness for Tommy to grab so he could help her ass bounce. Once she was warmed up they threw her to the ground and shoved Tommy's massive cock down her throat. She gagged and drool oozed all over her tits and face. As soon as she could catch her breath, the cock would cram down her throat, making her whimpers of gratitude barely audible. But that only made her hungry for more. Her heavenly booty was then put on display so Tommy could fuck her tight pink pussy from behind. Crouched in a doggie position her firm and perfect ass gyrated as Tommy pounded her behind. Pleased with her gratitude and her commitment to shaking her ass, she was then allowed to lie on her back and take Tommy's dick as deep and hard as possible. She came over and over and just when her multiple orgasms couldn't possibly continue, Tommy blows a giant wad of cum all over precious tits. Breathless and sweating, she keeps bouncing and thanking her masters for their generosity. Richelle Ryan shakes her ass and tits all day long while restrained in rope bondage and fucked by a massive cock!!
Read More »
---
---
It's a battle of the blonds as a scam artist faces off against a sadistic housewife resulting in brutal sybian, squirting, bondage, anal, humiliation, & pussy clamps. Cadence Lux is a hot little whore running a her last job, but picks the wrong rich and sadistic psycho's to pull one over on. Before she arrives from the third party designer app agency, Tommy and his hot and bothered wife Mona are playing power games. Instigating her sadistic husband's wrath is a time honored tradition, so Mona coyly throws her collar on the floor leaving herself open to Tommy's discipline. Panties stuffed in her mouth and pussy, paddled and flogged until she is bound and squirting on the floor with a cock in her ass, choked out on her husbands work tie, Mona looks like a happy little sadistic house whore. Until she remembers the decorator is coming… Cadence will be sad to find that the cupboards and drawers are empty, and there is nothing in the house to steal except a single silver collar draped playfully in front of a security camera, as if for her to find. Walking directly into her fate, Cadence takes the necklace and finds herself immediately under Mona's thumbs, pussy clamped wide open, nipples in tight metal clamps, made to gush and squirt with painful orgasm after painful orgasm. Humiliated and used up, Cadence scrambles out of the house, but cannot resist trying to steal one last thing before making it out the door, landing her in Tommy's hands, and then bouncing on his cock as he and Mona decide what to do with their newly acquired toy. Answer is wrap it up tightly in black tape and place it on the sybian for a terrible torrent of orgasms while being shocked, face fucked, and made to like Mona's asshole. Once Cadence is thoroughly objectified and fucked out, she must please Mona's pussy and clean Tommy's cock as he fucks his wife's gorgeous asshole and she relishes every orgasm. Tied up and thrown on the bed, Cadence is fucked, spit on, humiliated, and gushes uncontrollably all over Tommy's dick until the stockholm syndrome sets in and she promises herself as a pet to Tommy and Mona, to keep forever.
Read More »
---
---
---
---
---
---
---