---
Tight jeans, hot cheerleader and a school paddle: Lisa in The Principal's Office.
Coach Friday knows what to do when a varsity cheerleader steps out of line at his Texas high school: bring out the board! The long wooden paddle is still used for real in many Southern high schools in the USA. When missing lacrosse trophies are found in Lisa Langley's locker she has no option but to stick out her bouncing booty for 10 swats. "That paddle is a bitch and wearing skinny jeans to the shoot was dumb," says Lisa.
Read More »
---
---
The paddle makes stunning Helen Stephens sorry for wearing a cheer uniform.
Wearing a hot cheerleader uniform to a discipline session at Reform Academy earns beautiful Helen Stephens a tough spanking with a wooden paddle – panties wedgied, cheeks bare. She disrespects Earl Grey by laughing at him, even though she just saw her military colleague punished. Laid out flat on a gym vault, her juicy cheeks take the consequences: 38 smacks that get her yelping, 27 on her silky smooth bare skin.
Read More »
---
---
Elori Stix is a cute young brat with a curvy bottom who complains to her mom about getting stuck with the new sorority. Her mom (played by fetish superstar Julie Simone) will not put up with any guff so she gives her daughter a sound spanking with her hand and hairbrush until Elori's bottom is bright red and she has learned her lesson.
Read More »
---
---
Yanking down her panties to deliver a heavy Mill Strap to teach her a lesson. Her pretty upturned bottom is solid red and purple bruising. Maddy sobs through her discipline, begging with a tearful apology as the paddle bruises her swollen bottom. Special attention is paid to her sit spots, a solid blistering she will remember for weeks to come. After Daddy rubs and inspects her punished flesh, she is finally allowed to rub her poor bottom as she reflects on her behavior.
Read More »
---
---
Ariel has got too big for her boots as a domme- she's breaking the rules of #GameOfSlaves and the enforcers don't like it! Kidnapped from her mansion, she is taken to the discipline dungeon. Found guilty of serial infractions she is bound on her knees, kneeling on a hard stool with her wrists up to the ceiling, ankles bound together. Her soft, high-arched soles are left exposed and vulnerable to painful punishment! The enforcer canes her soles and her bared bottom with a bundle of bamboo rods, leaving lines across her perfect ass cheeks with every stroke. Then because she hasn't learned her lesson he fastens her with her legs wide spread and bound apart and canes her inner thighs! Blindfolded and bound Ariel must take her punishment.
Read More »
---
---
Emily Parker catches Spirit Sanctus, a girl from a rival school, spying on her so she has to teach her a lesson with a sound spanking over her knee. The tall and strong Spirit then gets Emily back with a spanking of her own. The girls sit on a hot electric furnace for the spankings, so they both end up with sore and toasty bottoms.
Read More »
---
---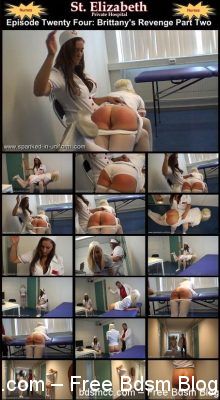 In part 2 nurse Brittany gets her revenge. She takes nurse Leandra over her knee and gives her a sound spanking. After the spanking Dr. Johnson fetches his cane and Leandra gets six of the best across her bare bottom while laying over the massage bed in the office Then Dr. Johnson takes Leandra and Brittany out into a busy corridor in the hospital and Leandra is ordered to stand against the wall for an hour. Her bare, sore red bottom on display while people laugh and make fun of her.
Read More »
---
---
David was determined that even the stubborn Chloe learned her lesson from the spanking. Her begging and pleading while the hairbrush landed time and again on her bottom let David know that her punishment was having the desired effect. With tears streaming down her face, Chloe promised not to engage in such dangerous activities again.
Read More »
---
---
Queensnake violates Jeby's vagina with six different power-screwdriver attachments.
Read More »
---
---
Fallon West is a total butt slut!
Fallon West looks stunning in her pretty red dress and high heels; she looks even better with her face wrapped in tape and mouth held open for Jesse to fuck. She's bound to a pipe, hands mummified in tape as she struggles to take his cock deep in her throat and balance in her ridiculous heels. Soon, Jesse has her dress pulled down, exposing her pert tits and hard nipples. Drool runs down her chin, catching in the tape and leaving her a pretty little mess.
Next, she's bound doggy style to the table, her tight ass up in the air and fully displayed. Her ass is so tempting. After another round of throat fucking, he goes full throttle into her tightly puckered butt hole, ramming his cock into her while yanking her hair to arch her back and take it.
Finally, poor Fallon is tied with her legs spread, her used ass and pussy totally exposed. OT joins in the fun, toying with her most sensitive bits, further violating her ass with a large silver hook and finger fucking her pussy. He presses the vibrator into her swollen clit and she can't do a thing but cum over and over.
Read More »
---
---
---
---
---
---
---