---
Ariel's not satisfied with the quality of domination she has experienced so far in #GameOfSlaves. One dominatrix after another has failed to fully live up to the promise of their promos. Even throwing herself on the mercy of the game makers hasn't really hit the spot. So today she is submitting to Mistress Hannah Claydon. As we all know, Hannah is the queen of gags- she is obsessed with finding the perfect gag for each slave. And even the formidable @TemptressKate hasn't really managed to find a gag which shuts Ariel up… and which also satisfies Ariel's highly-refined aesthetic sense of what a good gag should look like. Can Hannah find the perfect gag for Ariel?
Read More »
---
---
Slave girl Tillie learns to love her new home- the cage. Obedient and submissive to her master's will, she locks herself in the hand cuffs and leg irons, and gags herself with a big black ballgag to patiently await his attention.
Read More »
---
---
Well ok, it's not actually dawn. But it's the beginning of day 3 of our Spanish location trip with Natalia Forest, and we wondered if we could do a chair tie with more rope integrated into the chair than normal. Hywel said we could talk as I tied Natalia up. And then very possibly regretted it – it turned out that Natalia and I had a LOT of gossiping to do. But the rig turned out beautifully, in large part because Natalia is just so bloody flawless and beautiful. Honestly, it's like she's already been photoshopped. Kinda dazzling.
Read More »
---
---
Ariel has got too big for her boots as a domme- she's breaking the rules of #GameOfSlaves and the enforcers don't like it! Kidnapped from her mansion, she is taken to the discipline dungeon. Found guilty of serial infractions she is bound on her knees, kneeling on a hard stool with her wrists up to the ceiling, ankles bound together. Her soft, high-arched soles are left exposed and vulnerable to painful punishment! The enforcer canes her soles and her bared bottom with a bundle of bamboo rods, leaving lines across her perfect ass cheeks with every stroke. Then because she hasn't learned her lesson he fastens her with her legs wide spread and bound apart and canes her inner thighs! Blindfolded and bound Ariel must take her punishment.
Read More »
---
---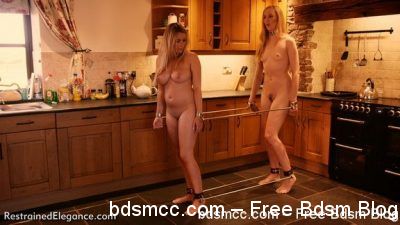 To encourage co-operation, try chaining your slavegirls together with rigid spreader bars and set them a few tasks!
Read More »
---
---
Honour May explains the appeal of ropes and bondage, tied up tight naked in ropes barefoot and bound. Watch her struggle and talk to her about all the naughty things you want to do to her….
Read More »
---
---
Anita's present is to be wrapped up like a festive parcel herself! Ball-gagged and bound, barefoot and beautiful, enjoy the holidays with a taste of deBauch-ery.
Starring Anita deBauch
Read More »
---
---
Model-Agent Natalia Forrest's slave training is complete! Broken by The Underground, she is no longer an independent woman of action – she is genuinely ready to accept her new existence as a sex-slave. The training has been arduous and comprehensive, and Mistress Zoe has put a lot of time and energy into it… time to see whether it will pay off! Natalia is to be sold at auction by the fearsome Honest Omar slave traders! Who will purchase her?
Hywel's note: as I mentioned, Love Knot Revenge was briefly the longest and most involved custom video shoot we'd ever staged. It held the crown for about five weeks, until it came time to shoot The Underground. One couldn't imagine a more complete contrast in the brief- the script for Love Knot had been millimetrically precise and ran to over 100 pages. The brief for The Underground was sweeping, general: combine the features he'd loved the best from Slave Auction, Pony Girl, positions training and some other RE videos, add a 1960s-style spy plot, and some touches and focusses he'd really like to see (like the focus on changing outfits).
The whole thing was less than a page. The only catch? He wanted something properly epic in scope- at least two and a half hours run-time (we ended up at almost four- go team!) We'd never shot anything as long or as ambitious before.
Read More »
---
---
Hope you enjoy this beautiful bondage music video starring the incomparable Chloe, tied tight on the bed for the thrill of it!
Read More »
---
---
---
---
---
---
---