---
Suffer the Maddy unto me!
Maddy O'Reilly has been a fan of Insex for a long time. She rarely gets to play, but when she does, she goes hard. For our Christmas update Maddy is dressed as Jesus. She's sure to suffer for our pleasure.
With Maddy up by her neck attached to Summer's neck we have her sing Christmas songs. Of course we don't make it easy. The vibrator on her clit makes it really difficult for her to remember the words and she ends up chocking poor Summer.
Christmas is such a festive time of year so we tie Maddy up with some decorations. We wrap her with lights and put a wreath on her head. A Christmas tree is not complete without bells so we attach some to her nipples with our tightest clamps. Some special candy canes are crushed and placed under her feet.
Read More »
---
---
Mia and Maddy get wet and messy!
No livefeed is really complete without a nice big caning. So Mia is put into position. With her ass way up in the air and her head down she's going to really get it. This time OT wants some protocol. To make it through she's going to have to say her least favorite word.
Once everyone is satisfied with her suffering it's time to play with her. A huge pogo is inserted and Maddy gets to hold the other end.
Who doesn't love a messy girl? To top off an already great show we drop a pumpkin pie in Mia's face. Then we pile on the whipped cream. Mia is wet and messy. Maddy helps smear the pie by sitting on Mia's face.
Read More »
---
---
Luna Lavey is a whole new level of fucked up
Luna Lavey is back at her live shoot, and she's in a bit of a bind – literally. Her socks are stuffed into her mouth and bound with tape, her hair's strung through her nose ring; she's a mess as she pathetically tries to underess for our members. Mia Torro watches helplessly, bound and gagged as she giggles at Luna's suffering.
London has Luna up on the table, bound in cruel steel cuffs. Her gorgeous ass is high in the air, just begging to be abused. Luna is one tough little slut, and OT is more than happy to engage is some extreme fear play with her. Being scared turns this girl on likke nothing else, and she's dripping down her thighs in a panic. This shoot goes way beyond our normal level of fucked up, and it's a must watch!
Read More »
---
---
Luna tries to cheer and strip for a live audience.
Despite her demonic appearance Luna LaVey has the body to be a cheerleader. She's got those sexy hips and big tits that every guy wants to play with. Luna has always wanted to be a cheerleader. She's always wanted to fuck the jocks like cheerleaders do.
The only problem is she that she sucks! Even when we give her pompoms she can't make a cheer to save her life. Luna is a stripper and yet she can't strip to a decent song. So what are we going to do with her? First we make the position more difficult for her.
The members want to see her socks shoved in her mouth. They are huge so we shove them deep down her throat and tape them in tight. Then we shove her own hair through the holes she made in her nose. Then OT vibrates her. It's just a tease though.
Read More »
---
---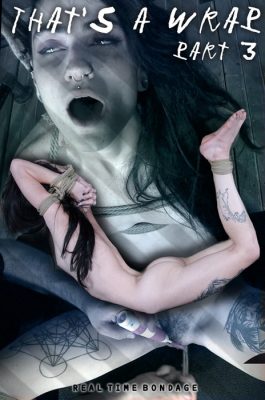 Lydia gets the tease of her life until she's made to squirt all over the table.
Once Lydia came down from being pogo'd. OT puts her into a TIGHT hogtie. Her arms and legs go up behind her to the ring above and she's pulled as tight as she can go. With a rope around her neck she's fighting to breathe. OT gives it one more good tug before she's allowed a break.
It's time for the next position, but Lydia gets distracted by the ass on her decoration Luna. Lydia buries her face in Luna's ass till she's panting again. OT helps by holding the back of Lydia's head. When she runs out of air she struggles to push away, but OT let's her panic.
Lydia has been such a good girl that everyone thinks she deserves to get at least the tease of an orgasm. It's not going to be that easy though. OT teases her to the point of crying. She's begging to orgasm. The vote goes up and she's made to wait. She begs and begs. Public opinion begins to swing her way until finally she gets the green light. She cums so hard that the table becomes drenched in her cum.
Read More »
---
---
Lydia gets wrapped in rope!
Lydia Black and Luna LaVey never would have guessed what they'd be used for when they got giant holes cut in their ears. Sitting back to back with a cable tie going through their mouths and their ear holes they are made to answer questions. Answers are not the only thing coming out of their mouths. They are both drooling all over themselves.
Once the zip tie is cut Luna is locked against the box and lydia is handcuffed to the ring. A ballgag in Lydia's mouth starts her drooling again as we study her sexy body. Then OT comes in with some rope and ties her up. Slowly rope after rope wraps her entire body until she's completely immobile.
OT rips open her shirt to expose her tits. He pinches her nipples cruelly and makes her walk around by pulling them in front of her. He tosses her to the ground like a ragdoll. Once Lydia is completely helpless OT begins to pull her up to the ring above her by her ankles. There she hangs like a piece of meat.
Read More »
---
---
Kel gets hit with many things!
Kel is still reeling from the spider bites. She holds her pussy like it's been kicked. Little does she know that there was never even a spider on her.
The members want to see her holes before her ordeal continues. Once she's fully exposed she's put into her next position. With her sexy ass up in the air there is no doubt what will happen next. Kel is going to get hurt. Canes, whips, and even a new flogger. The crew brings all the toys to the table to make Kel scream.
When it's all over Kel needs to pee. The glass bowl is brought in to collect her golden nectar.
Read More »
---
---
Riley struggles to hold her position.
We don't ever do scenes without bondage, but the members requested it so we decided to give it a shot. The bondage in this first scene is mental. Riley has to hold herself into a standing spread eagle position. Her punishment for dropping her arms below a line or moving her feet closer together is enough to make her hold position.
It's not easy holding your arms up. It's not long before Riley is suffering. The strain in her arms is clearly beginning to hurt. She drops her arms just for a moment and is immediately shocked. She screams in pain and gets right back into position.
Now that she is fully acquainted with the consequences she redoubles her efforts to hold her position. It's just too painful. Dropping position leads to more punishment and each punishment makes her feel more strain. It's not long before she's unable to get back into position and she's just a sobbing mess.
Read More »
---
---
Kel gets fire and ice.
Kel is a little tired after her ordeals. The crew puts her in a laying down position. This is Real Time Bondage though. She's got to suffer somehow so instead of laying on the floor she has to lay on blocks of ice. Winter is here! As the ice begins to freeze Kel's back OT drips wax on her front keeping her warm.
We can't leave the wax on forever. OT and London bring floggers over and beat Kel till she's mostly clean. Finally Kel gets tied up for some wet and messy fun. The crew has some mud prepared.
With the first throw the mud gets in Kel's eye. Poor kid has to come out of bondage.
Read More »
---
---
---
---
---
---
---