---
Sloppy party girl Alex More learns a lesson!
Alex More had a little too much fun. After a night out, she's stumbling in her stilettos and slurring her speech, but Sgt. Miles knows just how to get her cleaned up. He locks her into a strict metal collar and shackles, promising it'll help "process those toxins." The only thing she'll be processing though, is pain.
He snips off her pretty outfit, revealing her gorgeous fit body. Suddenly, it dawns on poor Alex what she's in for. A rough throat fucking brings tears to the naughty little slut's eyes as she whimpers pathetically. She struggles for air and slobbers all over herself, but what's a bitch good for if you can't even fuck her face? He goes to town on her sweet little throat over and over, til she learns to keep her tongue out and take it.
When he's satisfied with her oral performance, Alex is pulled up off her knees and bent over. She could hardly stand earlier; by now she's shaking in her heels as Miles opens up her tight slit with his fingers. Panties around her ankles, he grabs her hips and viciously fucks her as her cries fade into satisfied moans. She sounds even better once he gags her with a leather strap and her eyes roll back, overwhelmed by cock and pleasure, just like a good little slut should.
Read More »
---
---
Syren gets tag team cock fucked from every angle!
Busty MILF Syren de Mer is helpless, bound, and adorable as fuck! Matt Williams and Sgt. Miles go to town on her toned body, ramming their cocks down her throat and she doesn't even flinch. Syren's a true pro, as they fuck her face with mind blowing intensity and she takes every inch, drool pouring down her chin. In the rare moments without a cock down her throat, she's all smiles; this slut just loves it.
After a brutal throat fucking, the guys have had enough. Syren is bent over as they take turns switching between that magnificent throat and her dripping cunt. At this point she's an absolutely soaking, makeup smeared mess, but she's not done yet. We treat our girls well here, and as a reward for all her hard work, Syren is made to squirt like a fountain! She's left lying in her own mess, happy and satisfied like a good little whore should be.
Read More »
---
---
Scarlet de Sade shows off her slutty side for our members live!
Scarlet de Sade has an incredible body. With legs for days and tits that just won't quit, Sgt. Miles is all over this little whore. Not to mention that it's clear she LOVES sex of any kind – this desperate little slut is thirsty for his hard cock shoved in any hole she can get. And our members were more than happy to make that happen.
Scarlet's wrists are bound above her head, forcing her huge tits to stand at attention for the Sgt. He can't believe how wet her pussy already is as he snips off her clothes one by one; she's so into it, we have to gag her! She's in for a brutal fucking as she struggles to stand in stilettos while Miles slams his cock into her dripping cunt over and over. It wouldn't be BaRS with only one hole though; we get Scarlet on her knees and bind her amazing breasts up tightly with rope and wood. It's a gorgeous sight to see her gag and drool all over his dick as he shoves it down her greedy throat.
The bondage is so hot, we can't just leave her on the floor. Scarlet is yanked up for more rough fucking, bent over and bound with her legs spread and tied for good measure. She's left a sloppy, satisfied mess – but like a good slut, she's still insatiable for more.
Read More »
---
---
Whitney Wright gets fucked doggy, sybian face fucked and face sat.
Sitting atop her vibrating throne Whitney Wright awaits her fate. Matt's cock and Dee's giant strap-on. It's not long before her mouth is filled to capacity. The tears stream down her beautiful face. Dee and Matt barely let her get a breath while they play their game of hide the cock in her throat.
Most girls love taking it in doggy position. Matt and Dee don't make it easy though as they double team her. They each take an open hole and pound away. That sexy ass gets pounded while they pull her hair and use her mouth.
There's no more wonderful place in the world than between the legs of a beautiful woman. Dee uses her pussy and ass to cover Whitney's face. Whitney knows exactly what to do. She laps at Dee like a good little girl. Matt fucks and vibrators Whitney like the whore she is.
Read More »
---
---
Helena is brutally throat fucked and begs for release
Helena Locke is hooded and bound to the Sybian; her sweet little whimpers are barely audible over the buzzing – until Matt can't take it any more and rips off the hood to shove his cock down her throat. He uses her mouth like a flesh light as tears roll down her cheeks and she's left gasping for breath. Sgt. Miles has to get a turn to wreck her pretty mouth next – Helena struggles to take all of his hard cock while he laughs that he loves to see her cry.
Helena begs to cum as the Sybian relentlessly teases her clit and she gets SO close – but the boys decide she hasn't earned it yet. Instead, she's brutally denied, bent over and bound before being fucked on both ends. She's too cock-drunk for words, but her moans say it all. It's a good thing she's bound, because poor Helena can barely stand when they've finished with her.
Being laid down and shackled to the box seems like a treat for this exhausted little slut. She gets to lay back while they fuck her throat slowly, deeply – almost gently. But what she really wants is more brutal cunt fucking, and she's not not disappointed. The second this whore is filled with cock, the moaning starts back up. She just loves being stuffed full and she's not shy about it.
Read More »
---
---
Nothing makes Olive Glass happier than taking cock from every angle!
We get to meet a lot of beautiful girls, but Olive Glass is something else. Between her gorgeous slim body, pert tits, and expressive face, Matt Williams and Syren De Mer can't wait to get their hands all over her for Sexually Broken.
Matt makes full use of her perfect mouth, shoving his cock into her as she drools and gags. Then it's Syren's turn as Olive struggles to take her strap on dildo deep in her throat. The pair take turns tormenting poor Olive, who loves every minute of it. Finally they give her what she's been craving, and Olive get fucked hard from both sides as she giggles with pleasure. She's a true slut and the noises she makes leave no doubt how much this girl loves cock!
Olive is chained up, bent over, on her back; she takes it in every position and like a greedy little slut, she just can't get enough. When she's not gagging on cock, she's grinning from ear to ear. It's truly a joy to watch.
Read More »
---
---
Lily Lane gives a sloppy blowjob and gets rammed.
Lily Lane has that sexy teacher look that you just want to bang for hours. She's got those sexy cock sucking lips and giant tits. With her sitting on a wooden pony her face gets a brutal pounding of cocks. The drool drowns her sexy dress. The boys take turns stretching her jaw till it aches.
Her slippery cunt Is just as fun as her sexy mouth. Miles and Matt take turns cramming their dicks deep into her hole as she screams and moans. With her legs held back she has no choice but to take it. When the vibrator hits her clit she cums like a mad woman.
Lily Lane's ass is a sight to see. Up in the air as she's bent over the table it just begs to be entered hard and fast. Matt and Miles don't disappoint. Using her long hair as reins they give her all they've got.
Read More »
---
---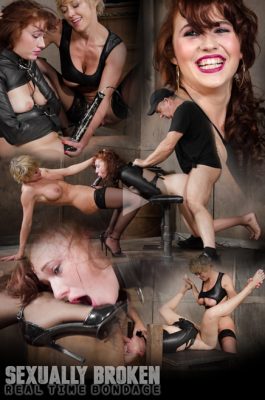 Stephie Staar BaRS The entire live show from last month If you missed it live check it out
Stephie Starr was last month's live show guest. If you missed it live check out this update edited, it's great.
No breaks, three bondage stations, one straight jacketed porn star, and rough sex. We move Stephie from station to station without ever giving her a break. We fuck her real hard and push dicks into her throat hole with some aggression. She quickly goes into subspace and checks outs. We love fucking real life rag dolls. Don't miss this amazing edited liveshow.
Read More »
---
---
Dee Williams in the hardest hour in Porn! Non-stop live action, brutal face fucking devastating!
Not many people on the planet can edure the Sexaully Live live show. It's intense helpless bondage, and some the roughest sex in mainstream porn and it's 45 minutes of straight no cut, no breaks, rough sex! We only do 12 a year, and we carefully pick our girls for it. Dee Williams is one of the best all around models in the industry, able to take the most hardcore bondage and fucking.
Dress to kill in her stocking and black high heels, Dee is ready as she can be. Soon the boys of Sexaully Broken are going to bring the cock, and those boys know how to fuck a helpless girl. From brutal face fucking and deepthroating to hard fucking that causes Dee to squirt out several mind blowing, screaming orgasms, this update has it all.
Read More »
---
---
---
---
---
---
---