---
A Peeping Tom Is Taught A Lesson
London is watching a video from her favorite porn site while pleasuring herself when she realizes that someone is spying on her. She isn't frightened on a creeper peering in on her like most women would be. Instead she is excited because she knows just how to punish him for his transgression.
After capturing him, she ties him down and gags him. She kneels on his chest making him struggle to breath as she slaps his face and punches him. She then wraps him up like a mummy and punishes his feet with a cane and teases his cock, but she refuses to let him enjoy himself.
Finally she canes his ass hard. He moans with each stroke but she doesn't let up. His voyeuristic habit landed him in her clutches and she is happy to show him the error of his ways.
Read More »
---
---
Aidan Allgood is Whipped Into Shape
Aidan Allgood wants to work on some fitness goals, so he decides to meet with a trainer, but London's methods are not what he had expected from a workout session.
First she ties his cock and balls to the floor to keep him in place as he runs in place for his warmup. Then he has to hold rocks over his head. London encourages him by caning him hard when he tries to relax.
Aidan is afraid of electricity, so London uses a cattle prod to encourage him to stay in a plank. Finally, she decides to work on his balance by forcing him into a pose that is very difficult to maintain. After a day of one stress position after another, Aidan is sure to have gotten closer to his goals.
Read More »
---
---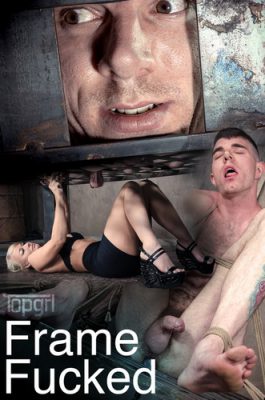 Artemis Faux Gets Framed
Artemis is back for more bondage and beatings and London is happy to deliver. She puts him face down on a metal bed frame and proceeds to cane him. She then adds binder clips to his from and pulls them off slowly as he wails in agony. She turns him over no the frame and makes a zipper from clothespins. Artemis is terrified, having never experienced a zipper before. London takes advantage of this fear. She tells him that when he is tired of being caned, she will pull off the clothespins. She hits him until he can absolutely stand no more. When he finally begs for her to remove the zipper, she obliges, laughing at his shrieks.
Finally she sets him upright on the frame and fits a fucking machine under him. As he is fucked in the ass harder and harder by the machine, London continues dishing out pain. Even after he has finished cumming, she still hasn't finished hurting him.
Read More »
---
---
---
---
---
---
---