---

Master Smith is bored at work, He thought it would be amusing to Skype with sex slave Jessica Kay, have her squat and piss in her special K cereal and eat it. she is then instructed to spit in the same bowl and eat some more. Though eating her puked up special Kay is her limit, she does just as well by smearing the piss soggy cereal on her pretty hair, slap her face with it and rub it on her body. After all, amusement is what sex slaves are for, isn't that right?.
Read More »
---
---

A raw captured moment of a Master in power exchange with his slave. The chances of you witnessing this type of exchange in a true Master⁄slave BDSM dynamic, as it unfolds are very slim indeed. This is one reason I record such interactions of trust and love in a such a perverted way, it is difficult to understand. Some will see this act as bizarre, even extremely graphic and completely misunderstood. Open you mind to witness this rare exchange and be enlightened to new ways to relate to other humans unfettered and primal. Master Charles and his slave Maryellen are an experienced M⁄s couple that live a real 24⁄7 lifestyle, they have their own methodology of what works for them and is completely consensual. This video is not for the light of heart and is graphic in nature, nonsexual physically but mentally very arousing.
Read More »
---
---

Extreme domination is what gypsy slave girl Starlight seeks. Mmm the thrill of being tormented to wits end. This slave gets wet between her legs from just the thought of being the subject of a sadistic Master. Masochism is her kink, her ticket to ride. This vagabond, this flower child of the south, travels far and wide to feel pain and pleasure in bondage. Roaming from Master to Master, she finds herself negotiating a session at the Sensualpain dungeon. Feed and watered, his slave is put in a cage till Master is ready to play with this sex slave. Well, she really gets what she asked for and then some by the cane, being roughed up with big strong hands groping, poking and pinching till she is almost freaked out of her mind in the hot sun, blindfolded bound at the pole, bit in mouth, dangling precariously from a hook, hands locked in steel restraints above her head, her bare feet ache standing atop a wooden wedge, shivering, shifting the pain from one body part to another as the long torment deteriorates her strength. Enough to take your breath away as you watch her struggles. Extreme BDSM
Read More »
---
---

Slave Starlight finishes the day on the Saint Andrew's Cross, under the strict directions of Master James with a enema with almost three quarts of milk, so big that it gave her a bloated belly.
Read More »
---
---

Master James had started his day early this morning with blueprints from his dreams that were calling for him to forge into existence. His slave was busy multitasking and had been up all night and exhaustion was beginning to show. She tried to pretend not to notice Him weaving His sadistic web as she was hurrying to wrap up all of her projects in order to sneak away for some much needed rest but just as she got one foot in the door, Master James called for her to meet Him out back. She stopped, lifted her head to the sky and let out a massive sigh before taking a deep breath and accepting whatever fate her Master had laid out for her. She never expected that the worst of her suffering would come creeping from the ground up. Another twisted look into a day, a lifestyle of Master⁄slave BDSM living.
Read More »
---
---

A sexual deviant, a masochist, a squirting trollop wanton for play… Here to be a slave girl for the day. With rope, leather, steel and wood bondage, Master James put this Masochist out on the limb, literally playing this girl like a sensual puppet at the mercy of a BDSM Masters fingers. She is elecro shocked, whipped, vibrated, cropped, and man handled teetering between pleasure and pain with cries moans and wet vibrating goodness, she is spent in no time while dancing at the end of her rope by her hair, feeling hard cock that she cannot have. Some slaves will never have real cock no matter how much begging and promiscuity it displays.
Another brilliant show of sexual sadomasochism in bondage, at its finest.
Read More »
---
---

When a masochist becomes a collared sex slave and the Master is in tune with the needs of said chattel, it is a dynamic with the beginnings of enough elements to succeed in one of the most rewarding relationship most would never understand. When this slave is stripped of her clothing and her name and is given the number 626-132-779 instead, she shines.
When 779 is allowed to come to the SensualPain Dungeon for further training, she glows. When Alebeard from Paintoy gets her on the Rack, she screams with glee as he bombards this Masochist with relentless pain from impact toys made for delivering intense pain. Then he is kind by rubbing her pussy then a slap on them tender bit to another rub then heavy slap. The fun begins when Master James give Alebeard a large tree branch to skewer her juicy pussy with..
A must see… But not by the faint of heart.
Read More »
---
---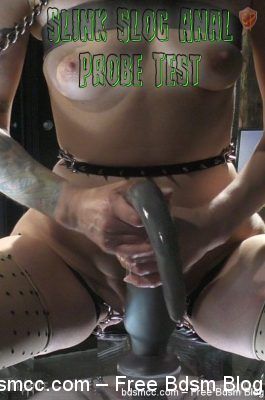 Sometimes, things do not quite go the way you had them all worked out in your head… In fact, sometimes they don't work at all. Now, there are mixed reviews and differing opinions about whether or not these not so successfully executed endeavors are something that people want to see because a certain sort of "Magic" is lost when the theatrics are stripped away; but W⁄we here at Sensual Pain, are all about giving you a view into the real In's and Outs of O⁄our M⁄s dynamic so we keep those cameras rolling. Lucky for the viewers, these moments almost always tend to bring tears to abigail's eyes one way or another. Master James received a new toy in the mail, the Large Slink by Square Peg Toys, and cannot wait to give it a spin on slave abigail. Once abigail gets acquainted with it and figures out how to keep in in her slippery grip she is already feeling worn out so Master James takes over. When slave abigails ass hole isn't cooperating fast enough for Master James' liking he grabs a speculum to take a gander at what could be holding things back and that's when the tears are summoned.
Read More »
---
---
---
---
---
---
---