---
Sex slaves are in constant training for the Master in both domestic and sexual service. One could say that the training never really ends by the elevated expectations over time as all good slaves submit to.
Here is another few scenes recorded on video, a captured moment of I as Master training my slave, enjoying her painful predicaments up close and personal. Though young and fragile physically, she has a strong constitution in mind and spirit. The sadist in me toys with this young fragility she emits in abundance. The efforts are in the choosing from numerous torments she has never experienced, could prove fatal at any moment.. The balance shifts fast, but you cannot judge her absolute limits by the painful noises of pitiful anguish that escapes her lips. Yes, the torment continues under her sobbing and begging plea's to be released , noises that would cause others to rush to her safety, the genetic code that compel most to help another from pain and suffering, that I do posses, but love the choice to rather listen to the music of anguish, poke the tender bits as it were.. I pump my foot to that cadence.. Is this wrong?… nahh… not if I have their consent and remind them of their safe word..
Here in the first part I as her Master, stuff the anal toys in her nylons that I would want to see her use. she is ordered to install a tunnel anal plug in her ass, put her in the standing cage to perv her sexually. I give her a painful caning before breaking off for dinner.
After W⁄we eat, I have her in a nice dark wig, dolled up in just leggings and a corset. Attaching the hook of the block and tackle to her collar around her neck, I tether her with the rope. Watching her fucking her asshole with a dong mounted on the post as she gives me head in the ass-up position, bent over one of a favorite spanking trestle is simply delicious. I then enjoyed fucking her from behind in her educated pussy, switching ends to have her suck my cock to get me nice and wet to fuck her trained asshole. Another training session under her belt will add to the value of this chattel quite nicely.
Read More »
---
---
Another Exclusive Outdoors BDSM Session
You won't see BDSM like this anywhere else I assure you. Master James has some pretty sadistic tastes and it's great. The sessions are quite creative and take place in different settings like a play room or outside. There were a lot of tools used that has never been seen before As Master James makes everything by hand.
It's arousing to watch Abigail go from mild discomfort to fully fledged pain and doing a great job at satisfying her master's pleasures at the same time. Abigail is a dutiful slave, always reciting her slave creed after each session. The scenes also contain dialogue between submissive and dominant as they remove her from bondage that lends to the authenticity to this Master⁄slave dynamic.
The over 250 movies can be streamed and downloaded in multiple formats with Full HD as the highest option. You can grab them in MP4 files. The quality is really amazing, it's like you're really there and you can see every pore and every string of spit. This is already unique content and the fact that it's available in such amazing quality is awesome. Feel free to "heart" a video if you like it.
Authentic Master And Slave Relationship
It's clear from the scenes that Master James and Abigail have a well rounded Master and slave relationship. slave abigail is a good slave who always listens to her Master's wishes and she truly does exist to serve and serve well. She always refers to him as Master. it is apparent that they have a good dynamic which adds to the uniqueness of the scenes. Abigail also has her labia pierced multiple times with large silver rings, I learned that this signifies that she is pretty far advanced in the BDSM world, so you're not seeing an amateur slave here but one who is already quite experienced. She enjoys the pleasure she gives and receives from her Dominant. After the sessions, she's often in her "subspace" and it's not always easy for her to express how the experience was but she does a really good job of it regardless.
A unique BDSM site well worth a membership.
Sensual Pain is the perfect title for this site and receives my full recommendation. I cannot emphasize enough how unique and creative the BDSM scenes are. Not only are you getting a real-life Master⁄slave dynamic but the sessions are filmed in awesome settings and can be enjoyed in high quality. The site is versatile and covers a lot of different fetishes. Master James and Abigail give a new meaning to the term "pain for pleasure".
Read More »
---
---
Perverting Innocence is the plot in this creepy story of how young Suzy was conditioned and the initial breaking-in training to be a sex slave. So innocent that she doesn't really know what is going on. These are recordings of the deflowering of yet another Graceful lily.
The scene starts with Suzy handcuffed to a dirty seat-less chair still clothed from being nabbed about an hour before while walking alone at night in the dark by herself. The seat-less chair is a simple restraint device that gives the victim proper seated position by the back bar reversed, placed under the chin. While cuffed , she is properly restrained for the starting of her training to be chattel. Her conditioning include verbal brain washing, beatings while being controlled and conditioned in verbal commands. Suzy is desensitized sexually by being made to orgasm from her moms vibrator placed in her soft white fluffy panties.
What is it like to really own someone, to really own a human slave? Is it any different than owning a dog or a cow? How would you treat your property and what would it mean to you? How would you break it, train it to make it serve you?
The interrogation scene is a form of BDSM role play in which the participants act out the parts of torturer and victim. As in real life torture chambers throughout the world over, the "torturer" uses threats, humiliation and physical pain to extract whatever information he⁄she believes the "victim" possesses. The game is over when the victim has broken and divulged the secret. The length and severity of the scene will vary according to the temperament of the players. Dedicated players attempt to replicate the atmosphere of a real torture session and, as in real life, the "victim" can expect to be stripped naked, tied up, mocked and abused.
One form of torture is orgasm control or erotic sexual denial, where the submissive victim is sexually stimulated to the brink of orgasm by the torturer. The torturer may then reduce the stimulation and keep the victim in a state of extended arousal for a long period of time. By varying the pace of the stimulation, the victim may be forced to undergo cycles of "up" and "down" arousal by the torturer. When satisfied with the experience, the victim may divulge the secret in order to be brought to the desired orgasm by the torturer. The interrogation may be continued past the orgasm, particularly if the victim orgasms without divulging the secret. Generally, the glans becomes very sensitive after orgasm, and continued stimulation may manifest more as an extreme tickling sensation. This can become quite uncomfortable for the victim, or perhaps even painful, providing them with an incentive to comply with the torturer's demands.
Read More »
---
---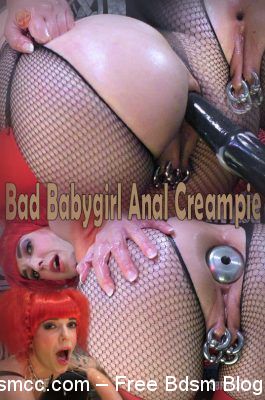 Bad Babygirl Anal Creampie and Oh, she is a bad one, Abigail Dupree is back doing her amazing anal private shows, MFC and solo live shows. She is hotter than ever after a much needed break from all of her duties as a sex slave. Though Master James has limited her to one wild night a week, the long awaiting devoted deviants out there are not all fully aware of this, well… Until now that is..
As you can see from the preview, she warms up a bit with some nice erotic deep throat and gagging with her eyes rolling around in her hear while sucking head. She is then instructed to various anal stretching with steel anal plugs and eggs, Buck the stud boy and glass 8 incher… That sex, hungry asshole just swallows them up balls deep, Mmm so sexy. Then she goes right to her favorite horse cock for some fast pumping of that long rod, flared head wonder of Chance the horse cock from Bad Dragon. Amazing how she takes it all while moaning for more as she rocks the post it is attached to. With Daddy's encouragement, Chance fills her ass with cum in a frenzy of fucking with a full ass of jizz, then lets the horse cum almost shoot out onto the floor, as she fingers her asshole open, pumping her fingers in and out of that loose Butthole, cum slithering down on her ripe pussy, glistening. Yes, she is ready, to be back in the saddle again, or under it..
Read More »
---
---

The Craniometer head cage is a very painful restraint that is used in extreme scenes. I thought it important to document and publish the initial fitting to the head of slave Abigail Dupree. It has many moving parts that require adjustment to fit any size cranium for extreme torture or sating the head bondage fetish of the masochist. Putting the screws to her is not the intent here, but to show the fitting of this unique medical cranium measuring instrument re-engineered, re purposed for the intent of restraining the cranium for B&D bondage and discipline. This Craniometer head cage is handmade for stage⁄film production use only, not for retail – Extreme Productions LLC
Read More »
---
---

Exploiting purity, caressing the innocence and fondling virtue is unethical. Piety must be preserved! Dejected, dignity lost by detainment, groping and manhandled. Demoralization… What is this endearing fascination with corrupting morality, yet we want to preserve and revere it, even cherish it… We do this to commit the perfect corruption! We fondle wrongdoing to an Ingenue In White. B&D bondage and discipline.
French; anj e noo – Is an innocent or unsophisticated young
fille. Abigail Dupree portrays the part of an artless innocent, unworldly girl or a simple young women not quite of age. She is inexperienced, callow to a fault in the presence of a skilled Master of the arts of TPE as Master James represents in act and pretense. she is pressed to feel here deep desires, the need, now drawn to Master⁄slave training and discipline to feel complete and not alone.
Read More »
---
---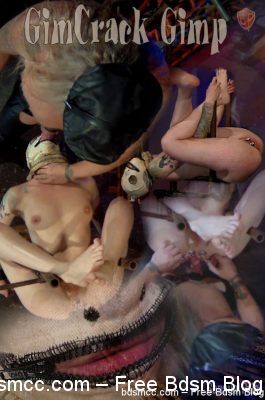 What's it like face fucking a female gimp? How about one that is bound tight in a bondage device? Master James shows just how this gimcrack gimp rides with a gaping wet pussy, ready for the taking. With its mouth hole unzipped and tongue a wagging, eager for the taste of cock. Legs up spread wide in the air waiting at just the right height for a gimp ride. Yes Sir… and all day to do it in too.
Read More »
---
---

Master James had started his day early this morning with blueprints from his dreams that were calling for him to forge into existence. His slave was busy multitasking and had been up all night and exhaustion was beginning to show. She tried to pretend not to notice Him weaving His sadistic web as she was hurrying to wrap up all of her projects in order to sneak away for some much needed rest but just as she got one foot in the door, Master James called for her to meet Him out back. She stopped, lifted her head to the sky and let out a massive sigh before taking a deep breath and accepting whatever fate her Master had laid out for her. She never expected that the worst of her suffering would come creeping from the ground up. Another twisted look into a day, a lifestyle of Master⁄slave BDSM living.
Read More »
---
---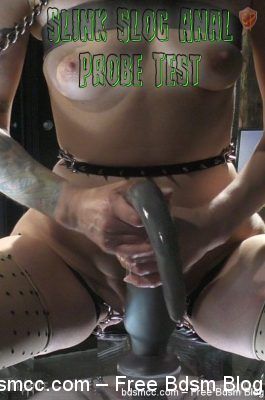 Sometimes, things do not quite go the way you had them all worked out in your head… In fact, sometimes they don't work at all. Now, there are mixed reviews and differing opinions about whether or not these not so successfully executed endeavors are something that people want to see because a certain sort of "Magic" is lost when the theatrics are stripped away; but W⁄we here at Sensual Pain, are all about giving you a view into the real In's and Outs of O⁄our M⁄s dynamic so we keep those cameras rolling. Lucky for the viewers, these moments almost always tend to bring tears to abigail's eyes one way or another. Master James received a new toy in the mail, the Large Slink by Square Peg Toys, and cannot wait to give it a spin on slave abigail. Once abigail gets acquainted with it and figures out how to keep in in her slippery grip she is already feeling worn out so Master James takes over. When slave abigails ass hole isn't cooperating fast enough for Master James' liking he grabs a speculum to take a gander at what could be holding things back and that's when the tears are summoned.
Read More »
---
---
---
---
---
---
---