---

Nurse Alex gets a lesson in how to practice medicine.
It's time for annual vaccinations at Doctor Feel Good's office. Alex More is first to get hers. Before he administers it he's going to need a sample from Alex. When Alex is done with her vaccination she finds herself in bondage. It's not what she was expecting, nor was it what she signed up for.
Doctor Feel Good is ready to play and he's got all the medical tools to use on poor Alex. You'd never know it by looking, but Alex has the most beautiful, giant clit the Doctor has ever seen. When her hood is pulled back it reveals the sweetest of morsels.
The Doctor pokes and prods it. He flicks and teases it. His twisted mind creates the most wicked of scenarios for Alex to undergo. She cries and screams and begs for him to stop. Her pleas go unanswered. The Doctor is having too much fun!
Read More »
---
---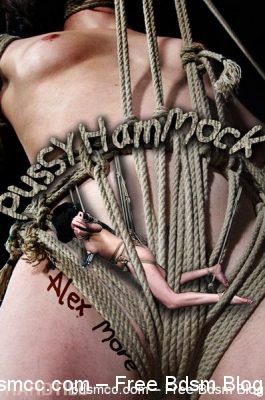 Alex More has the clit of a goddess, OT takes advantage of it.
Sexy Alex More waits for OT. She looks nervous as he takes her jacket off. The ropes are wrapped tightly around her body. She gets more and more immobile. Just the way OT likes it. Once she can't get away he starts to touch her. Most women recoil at his invasive touch.
Alex is one of those dirty sluts who gets turned on by a stranger's touch. The more OT fondles her the more excited she gets. When he steps away she can't help, but touch herself.
Clits come in all shapes and sizes. Alex's is quite large and highly responsive. OT barely grazes it with the vibrator after fully exposing it with clamps. The squirt sprays across the room as waves of orgasm crash down on Alex.
Read More »
---
---
Sloppy party girl Alex More learns a lesson!
Alex More had a little too much fun. After a night out, she's stumbling in her stilettos and slurring her speech, but Sgt. Miles knows just how to get her cleaned up. He locks her into a strict metal collar and shackles, promising it'll help "process those toxins." The only thing she'll be processing though, is pain.
He snips off her pretty outfit, revealing her gorgeous fit body. Suddenly, it dawns on poor Alex what she's in for. A rough throat fucking brings tears to the naughty little slut's eyes as she whimpers pathetically. She struggles for air and slobbers all over herself, but what's a bitch good for if you can't even fuck her face? He goes to town on her sweet little throat over and over, til she learns to keep her tongue out and take it.
When he's satisfied with her oral performance, Alex is pulled up off her knees and bent over. She could hardly stand earlier; by now she's shaking in her heels as Miles opens up her tight slit with his fingers. Panties around her ankles, he grabs her hips and viciously fucks her as her cries fade into satisfied moans. She sounds even better once he gags her with a leather strap and her eyes roll back, overwhelmed by cock and pleasure, just like a good little slut should.
Read More »
---
---
---
---
---
---
---