---
Gabriella perches her cute little butt.
Gabriella's tight little body is perfect for being perched on a swing. OT can't resist feeling her body and giving it a few punches. As Gabriella swings back and forth he gives her a good working over. Once she's nice and tender he sucks her tits deep into plastic suction cups. They are so tight and swollen she screams in horror.
For his next trick Gabriella is bent backward over her perch. Her pussy is pushed out in the most grotesque fashion. OT uses that to his advantage and flogs her exposed cunt.
One of Gabriella's best features is her ass. It's OT's favorite quality in a woman. So he can't help but make Gabriella stick hers out on her little perch. He beats it first and then he penetrates it with some steel. Gabriella is offended at first, but then she can't help herself. It feels so good. She begs OT to "stir the pot".
Read More »
---
---
The coyotes will have a feast; her valiva runs thick and copiously.
I am beside myself with this whore. She cringes at my attentions yet her body pulses, reaching out for more. This is the ultimate state and the final betrayal. Her mind and sense of self have hopelessly failed.
I readied her with a tight clam tie and placed her in the middle of the mattress. Implements of penetration surround the altar. Letting her stew for a couple hours will afford her the opportunity to amuse herself by imagining how they all will be used.
It was time for the trail. Blindfolded and guided by the rope cleaving her cunt she is yanked up the hill. Every step is a fright and her soles are jabbed by stubble and shale. Arriving at the grotto I bind her to a tree. Her skull hole is stuffed with two shop rags and sealed with packing tape. For added measure her jaw is sealed shut with a wrap over the top of her head. Her screams will barely be audible over the caw of the crows.
The crows are announcing a new arrival; the feast is at hand. Lets begin with some crimson life essence drawn as the whine of the mosquito fades in an out about her head.
Read More »
---
---
Five Intense Scenes of Tess Dagger in the Rusty Barrel!!
Tess Dagger has been caught and put in a barrel. At first she struggles, but a weekend in isolation makes her more compliant. London pulls her head out of the barrel and locks her body inside. With her face completely at London's mercy Tess gets a face whipping.
London isn't done. Tess is hung up like a piece of meat with a chain through her crotch. The pinching little links are attached to her wrist restraints so that every time she moves she tugs on her most sensitive bits. Then London starts her assault. She punches and canes Tess. Then she vibrates Tess' sensitive little clit.
The barrel returns and this time just Tess' feet are exposed. London puts harsh clips on her toes and the tops of her feet then she whips and canes her sensitive soles.
Read More »
---
---
Bambi is caressed by plastic, leather, and lace.
The plastic that contains Bambi is like a warm embrace, but it belies the horror that is to come. OT stuffs a giant rag in her mouth. More plastic wrap holds it in. OT creates a mask that covers her pretty face. She begins to struggle in earnest. She's truly afraid of what might come.
Bambi has a cute little ass and OT plans to explore it. He makes it nice and pink and then he probes it with his fingers. When he's satisfied that she's nice and open he hooks her. Once she's nice and tight he canes her till the red lines punctuate her pink cheeks.
With a spread like Bambi's there's no chance she was getting out of OT's studio without having her legs pulled wide apart. Exposing her most tender of bits. Her sweet little gash drips at the exposure. OT puts suction cups on her cute little tits. Then he creates an insex mask out of an old dress.
Read More »
---
---
Stephie is stuffed with her own panties and a metal dildo.
Women are such mysterious creatures. With all their sweet little smells and their pretty little features. Who doesn't want to lock them down and explore every inch of their tender flesh? OT certainly does. With Stephie made to stand still with her ass perversely exposed OT just can't help himself.
The gag OT uses in Stephie's mouth makes her drool all over herself. She's contorted to the point of disfigurement. OT isn't finished. He attaches painful nipple clamps to the leather straps on her toes making her lean awkwardly forward. Then he pulls her neck back. To release the pressure on her neck she has to pull on her nipples. To relieve the pain in her nipples she has to choke herself. It's an awful predicament.
OT puts Stephie upside down. In this position she has to look up and stare at her exposed pussy. When OT starts teasing her clit with the little vibrator she can't hold back the orgasms. She begins to squirt and spray her own face.
Read More »
---
---
Samantha Rone and Maddy O'Reilly have a religious experience together!
Dear God, I fear I may have sinned. It all started when I was talking with my friend and fellow church goer Maddy O'Reilly. She's so pretty and I just couldn't help telling her about something I found on the internet while fighting the good fight. I found out that she and I are both interested in the same thing. That's where it all went wrong. She knew a guy. The creepy guy from church who wears all black. He goes by the name OT.
He had us undress each other. Maddy looked really cute. I was so nervous. I hadn't been naked in front of a man before. Not even a doctor. He made us face each other and then he bound us together with handcuffs. My heart was pounding as he touched us. I felt you in that moment, God. I felt you holding me through Maddy. As I tasted her lips on mine I felt you.
When OT started whipping us I felt your warm embrace. As my ass turned red you overwhelmed we with peace and pleasure. I've never felt so loved. When it was all over and we were free of the bondage Maddy offered to give me the same amount of pleasure she had felt. As I squirted all over her I felt you flow through me onto her pretty face.
Please tell me Lord, did I sin? Or is this truly my calling? Sincerely,Samantha Rone
Read More »
---
---
London River has her body and mind modified.
London River was the nagging wife. She made OT miserable, but he took his revenge. After he made her feel his pain he put her to sleep. One she wakes he explains his plan.
The life London knew is over. Her new life is about to begin. It will be a far cry from what she's used to. While she was asleep he altered her body. Her hair is now platinum blond. She's sporting new giant tits.
Now that her body has been perfected OT is going to train London to be the perfect wife. His methods might seem a bit harsh, but he's nothing if not determined. One thing is for sure. London will never be the same again.
Read More »
---
---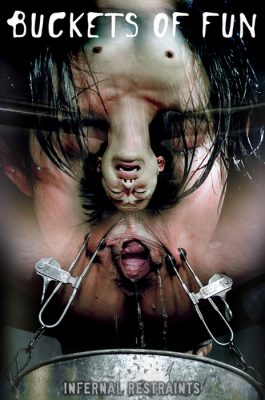 Beaten and made to orgasm Sosha Belle has a great time!
Sosha Belle loves being tied up. The moment the ropes go on her body she begins to smile. Once she's helpless her dress is removed to reveal a body to drool over. What is there to do to a body like that? Punish it of course. Matt makes quick work of it with the flogger. Then comes the nipple play.
The tears drip sweetly down Sosha's face as Matt plays with her nipples. He canes her tits and then comes the flogger again. She closes her eyes and moans into the gag and her tits are beaten over and over again.
The hogtie Matt puts her in makes her back arch like a contortionist. Then the vibrator goes to town. With her arms in reverse prayer and pulled up to the pulley she's going nowhere. Then Matt pulls the floor out from under her and she goes flying!
Read More »
---
---
Mia Torro's Ability gets used against her!
As you might have seen on Hardtied, Mia Torro has a special … ability. Like everything in life it all comes down to pussy. That wet little slit between her legs is like a goldmine. At the slightest mention of her own vaginal secretions Mia involuntarily squirts.
This discovery puts OT in the very exciting position of having the upper hand. It puts Mia in a very wet position. The pipe construction OT has built gives him plenty of ways to showcase Mia's body. Strappado, inverted, and spread.
OT clamps a bucket to Mia's labia. Immediately she understands her plight. Knowing that her own … ability is about to torment her invokes that very torment. Her pussy begins to let loose. With each ejaculation the bucket gets heavier and heavier. Her labia gets more and more stretched.
Read More »
---
---
---
---
---
---
---