---
Nadia had been tracking the current writing sensation known as Delirious Hunter. After reading the books by Bianca Rose and Joelle Barros she had desired a relationship with another woman of that temperament. She tracked the Delirious Hunter to the Michener Museum in located in the famous literary home of Dorothy Parker, Joelle Barros and Bianca Rose. Pursing a hunter can be dangerous and Nadia was stunned when the Delirious Hunter turned and confronted her and inquired " are you stalking me?..should I be concerned ? The literary sensation tuned and noted that she had be aware of her persistent tracking. Delirious Hunter found the girl irresistible and brought the lovely young thing to the home she desired to visit. On their way up the stairs to the master bedroom the Mistress of the house picked up a crop which sent chills through Nadia's body. She gradually had the girl remove her clothing. Nadia had found her prey however, she soon learned that her object of desire was a much more intense dominant than the romantic ones she had read about in the ones she had read about in Bianca's or Joelle's books. Nadia's first impulse was to run . When the Delirious Hunter noted that she found her immensely sexy this overcame her desire to flee. To Nadia this was the home of the romance between Bianca and Joelle but the Delirious Hunter was an aggressive woman who soon had her tracker naked and taking punishments she did had note expected. Once naked Nadia took a hard spanking upon her naked ass with the Delirious Hunter's crop and hand. Nadia did her best not to cry and comply with this intense Mistiness's desires. Soon upon the now tender flesh of her bottom she felt the pain of the punishment claws applied with great skill by the writer. After several minutes of this Delirious Hunter noted that is was time for bed. The Hunter undressed and had Nadia lie on her belly. She then informed her that she planned to use her hot, red bottom as her pillow.
Delirious Hunter and Nadia White
Read More »
---
---

Detentions for the girls at this Boarding School on a Saturday were always the worst. As Kami Robertson and Danielle Hunt were about to find out! They had been caught fraternizing with the boys from the adjacent public school and their parents had heard about their embarrassing behavior and demanded that their girls be taught a lesson. The reason why punishments were usually far worse at weekends was because the teachers would rather be enjoying their day off than dealing with girls who undermined the authority and good name of the school. The Head Teacher, Mr Osborne, was particularly blunt when dealing with both girls, taking time to scold, chastise and use a painful method of correction: A hard wooden ruler across their hands. Kami found this particularly difficult to take and was in tears as they both received the Discipline Hairbrush and Strap on their bare bottoms for the final part of their punishment. He left them to recover in their cornertime reflection period with Danielle angry that they had been so harshly treated only for Saturday Duty Teacher, Mr Jackson, to conclude that they had not learnt their lesson. He took both girls over his knee for a further spanking! An unfair double punishment? Perhaps, but this was why girls tried to avoid the dreaded Saturday Detentions at this school as they were often unfair! This long play video features the last classic pairing of Kami and Danielle.
Read More »
---
---

He was aware that Audrey had attended a performance of Ballet Z and inquired if she had inadvertently taken some of their choreography into her own work, as the director of Ballet Z insisted she did. At first she denied such a claim, but when confronted with the fact that she had not shown her work to the team of researchers employed to avoid such issue, Audrey realized the error she had made. David had given Audrey two choices, resign her position, or take the same punishment from him that she had given to Kim a week earlier.
Audrey felt her best option was to take the discipline, but she hadn't counted on the fact that she would be over the director's lap having her bare bottom spanked for over ten minutes. All could hear Audrey's cries throughout the building as Mr. Pierson gave his artistic director a hard and long spanking. By the time her discipline was over, she felt as if her bottom had been set afire. As Audrey moved to pull up her panties, Mr. Pierson stopped her as she was to face the wall while a few members of the board were going to witness the results of her discipline. Audrey wasn't sure what was worse, the severe pain radiating from her bottom, or the humiliation of having members of the board looking at her very red bottom.
Read More »
---
---

After Gianna was spanked for misbehavior by her charge, Mia felt bad about the punishment endured because of her. With Gianna standing with her red bottom exposed, nose to the wall, Mia felt strangely turned on. Soon both girls removed each other's clothes and jumped into bed. After a time they were discovered by Dr Pierson. Both naked girls were pulled from bed. Gianna was bent over the bed and given a very hard spanking until tears rolled down her face and she promised not to do this again,
Then it was Mia's turn to bed over the bed. Instead of doing the job himself he assigned the talk to Gianna. So it befell the naked girl with the bright red and sore bottom to punish her friend. Tears of shame and pain fell from the girl's eyes as her punishment proceeded. After the spankings were over the girls were informed that they were to spend the next two days in detention with Dr Pierson. Only Gianna knew what that meant.
Read More »
---
---

Mia was tired and decided to sleep in rather than attend class. Mia was new to the school and truly did not believe in the tales of spanking that circulated. When Mia was found in bed by Headmaster Pierson she was lead to the large bedroom. A sense of dread came over her as she came to realize that she was about to be spanked. Soon she found herself over Dr. Pierson's lap. She gasped as her bottom was bared and cried as she was spanked.
Mia was spanked on her bare bottom, an experience totally new to her, until she cried and proclaimed that she was sorry for sleeping in. After her spanking, she was led to the corner to stand with her red bottom on display.
Read More »
---
---

Gianna has transferred to Eastmoor Boarding School for girls midyear. Headmistress Julie Simone take special interest in the new student and is personally ensuring Gianna adheres to each and every rule stated in the thick student handbook. Poor Gianna doesn't stand a chance once she's in Ms. Simone's clutches.
During her orientation, Gianna is introduced to the endless list of rules in the student handbook. She is then immediately given a spanking for having committed the minor infraction of rolling her eyes as Ms. Simone reviewed the rules.
Read More »
---
---

Skyler was angry when Audrey, a very popular model , arrived for a eleven am call time forty minutes late. When she arrived her motivation to work was rather low and no cajoling from Skyler would push her to dress for the shoot. See that a different sort of motivation was needed, Skyler bent the entitled model over the island in her kitchen, lowered her panties and proceeded to give Audrey a hard bare bottom spanking.
Read More »
---
---

Skyler was angry when Audrey, a very popular model , arrived for a eleven am call time forty minutes late. When she arrived her motivation to work was rather low and no cajoling from Skyler would push her to dress for the shoot. See that a different sort of motivation was needed, Skyler bent the entitled model over the island in her kitchen, lowered her panties and proceeded to give Audrey a hard bare bottom spanking
Read More »
---
---

Audrey reported to detention with Dr Pierson as was required. Her heart skipped a beat when she learned that on this day she would be strapped on her bare bottom. Audrey lowered her panties and bent over the desk. She let out a loud shriek when the strap landed upon her exposed bottom.
Read More »
---
---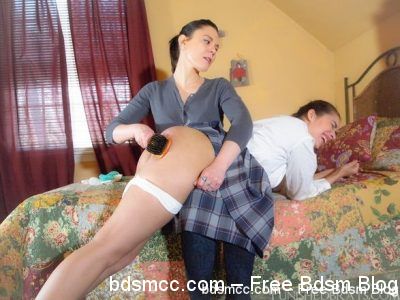 Kitty was not happy that she was being sent to school and one that required the wearing of a uniform. Of course Audrey was sending her little sister to a top preparatory school so that next year she can enter the University of her choice. Kitty attempted to get out of going to school by feigning illness but her big sister was ready for this. As she had lost her young adult privileges, Audrey took her temperature rectally. Kitty felt beyond humiliated and then worse as her temperature came back normal and Audrey began to spank little sister's bare bottom with the hairbrush.
Read More »
---
---
---
---
---
---
---