---
Booty Calls Ep 1: Shiri Allwood Fucks Nikki Darling's Whore Holes!
Nikki Darling's shift at the strip club has just ended when she gets a text from her new friend Shiri Allwood. A Booty Call. She rushes over to Shiri's apartment. "Did Somebody order a stripper gram?" Sexy blonde Shiri can't wait to get her mouth on Nikki's hot body. Nikki lets Shiri know that naughty girls need to be punished. Shiri kisses, bites and pinches Nikki's nipples then puts her over her knee for some tender but hard spanking. Shiri pulls Nikki's pants off her round sweet booty, leaving only high-heel shoes on her naked body. Shiri bites and licks Nikki's asshole. Nikki is hot and ready for Shiri's cock. First though Shiri sits her bare ass on Nikki's face. A hot sixty-nine as Shiri licks Nikki's pussy while Nikki sucks on Shiri's balls, getting right up in there with that dirty slut mouth. Shiri orders Nikki to blow her lady cock. Nikki gets it wet and all lubed up, taking it deep in her throat. Nikki is on all fours. Fucked doggy style. Her hungry pussy needs cock. Shiri slaps and spreads Nikki's luscious ass cheeks then slides her cock deep into Nikki's perfect, tight pussy. Fucks her doggy style before flipping her over and making Nikki cum while Shiri has her hand on Nikki's throat. Nikki is begging for a cock in her tight, ready ass. Spooning, with Shiri's cock in her ass and a vibrator humming on her pussy. Nikki experiences a flood of squirting orgasms. Now Nikki is on all fours getting drilled from behind. Shiri plunging her cock deep inside her and pounds her tight asshole until Nikki cums again. Then for a little ass-to-mouth as Nikki slobbers over Shiri's rigid cock, trying to suck out Shiri's cum. But Shiri has Nikki on her back again and her cock in Nikki's tight little asshole. Then Doggy style. Nikki grabs the vibrator, she can't stop the orgasms even if she wanted to. Shiri shoots her sticky load across Nikki's tight stomach.
Read More »
---
---
Lady Nala Screams and Begs For More From Mona Wales
In a field near the coast on a bright and sunny day Mona Wales leads Lady Nala toward a dilapidated house covered in graffiti. Nala stands firm as Mona flogs, shocks her with a zapper and uses clothespin zippers on her soft flesh. She teases orgasm after orgasm from Nala in the hot sun! Soon, Mona tires of this teasing and decides to make a spectacle of Nala in front of her friends at Rosas5, a local BDSM club. The crowd is ready to see this young lady squirt as they do not get to see her dominated often. Nala is suspended by her ankles from the ceiling and as she is shocked and spanked her friends and guest chant, ready to see her get dicked down like the slut she is! Juan Lucho is ready and face fucks the little beauty until spit is running down her forehead, she is hungry for more and the guests pull out cupcakes to smash on her tits, ass, and face while Juan continues to feed the hungry cumslut his fat cock. Nala is taken down from the ceiling and thrown into the stocks where she will stay still as she is fucked long and hard from behind. Her friends hold her face in their hands as they tell her she fucks better when Juan cannot see her face, instead, a guest rides on her back and teases Juan while her uses Nala's wet pussy. She begs to be let out from the stocks and once she is, the real work begins! They push her body to the limit commanding her to stay strung while she bounces up and down on Juan Lucho's throbbing dick, as the crowd works into a frenzy Juan pushes her down and makes her spread her big ass so he can cover her pink hole with cum. Mona pulls her into the street where she is made to spread her messy cheeks by the street so the world can admire her from the inside out, as passersby look on in disgust, Nala is proud to be such an exposed whore!
Read More »
---
---
Booty Calls Ep2: TS Foxxy's Back To Fuck Riley Nixon's Slutty Ass!
Riley Nixon is looking for a hook-up at a bar when she gets an unexpected booty call from TS Foxxy. Foxxy is back in town, holed up in a dingy motel room, needing to see her honey in a bad way. Riley is a smart girl, and she knows to get her ass on over asap. Foxxy has plenty of questions for Riley. She wonders why Riley is running around late a night, dressed like a slut. She doesn't believe Riley was sitting alone at the bar. She knows Riley is a little slut and wants to know exactly what she was doing. Foxxy isn't jealous, well maybe a little, but that's what turns her on. It gives her a good reason to punish Riley, and punishing Riley is fun. Foxxy lays Riley across her lap for some otk spanking. Foxxy's hand turns Riley's luscious big ass nice and red. Foxxy soon has Riley on the floor, on all fours, with her toes in Riley's mouth. Riley loves the taste. Foxxy loves rubbing her feet against Riley's large breasts. Toe-sucking really turns on Foxxy. Ass licking also turns Foxxy on and Riley is only happy to run her tongue up and down Foxxy's sweet ass crack. Riley is eager to have Foxxy's cock in her mouth. A sloppy deep throat gets Foxxy nice and hard. Suck it clean. Foxxy puts Riley on the bed, doggy style for some pussy licking. Pulls down her thong and puts her tongue to work on Riley's sweet pussy to get it wet and ready for some flogging. Foxxy has more questions for Riley. "What were you doing at the bar? Were you behaving?" Foxxy flogs Riley's wet pussy and ass. Riley confesses to flirting with some cute girls and cute boys. This only gets Foxxy more turned on. She fucks Riley doggy style. Then holds Riley's face firmly in place for some good ol' throat fucking and breath play. Foxxy then drives her cock in deep into Riley's tight little asshole. Fucks her ass doggy style, then missionary, on her side on her back. Riley cums so much she loses count of how many orgasms. Foxxy shoots her load right into Riley's open mouth and tongue.
Read More »
---
---

Screamer: The Intimate Torment of London River
In this brutal and intense session between the relentless Aiden Starr and her eagerly willing sub London River, boundaries are met head-on, and the line between pleasure and pain blurs. London River can endure all sorts of punishment, particularly when trust is well established, and her trust in Aiden Starr is immense. Aiden takes London through a screaming session of pussy punishment, flogging, caning, cropping, spanking, pussy licking, anal strap-on fucking and anal fisting, all while London is bound and tied, unable to resist or get away. Aiden delights in overlapping pain with pleasure for London, leading her to the edge and then back from it, in the ultimate sexual tease. We open with London chained to a pipe device, while Aiden punishes her pussy with clover clamps, a vicious crop, and a punishing vibrator. London begs to cum, but she's not allowed to get off so easily. The tension builds as Aiden demands obedience and patience. Later, London is bound on her back, with her legs bent over her head as Aiden torments that pussy further, slapping it and masturbating it, then shoving a dick on a stick deep inside and making London lick it clean. London is flogged and caned, as her screams drown out Aiden's already powerful voice. Finally, London is anally fucked with a strap-on. Her ass gapes, her voice cracks. She's the epitome of used and abused, and loves every single stinging moment of it. Aiden shoves her fist in London's ass, and pounds her with it, slamming the crazy intense orgasms out of her in ways she never imagined she could cum. This is a session between a domme and sub that know each other well, that know their own desires and limits, and test them again and again.
Read More »
---
---
When Mr. Pete gets fired for fucking his boss's daughter, Jane Wilde, he makes bold moves to win Jane's love through hard anal sex. Includes anal, breath play, bondage, nipple clamps, flogging. After some hot sex in the garden with the gardener, Mr Pete, Jane tells him they are going to run away together one day and then she disappears back into the house. Little does Pete know Janes mother found out what they did and she fires his ass on the spot. With nothing to loose Pete begs Jane to run away with him now but she wants nothing to do with him. Uhoh. After taking extreme measures to win Janes affection Mr Pete tells Jane she needs to get fucked in the ass. She is through with this relationship and tries to get away but Mr Pete is not done playing with her yet so he ties her up in doggie position, puts a ballgag in her mouth and gets down in it! First he grabs her by the ponytail and fucks her pussy good but its not long before he needs to get some of that tight little ass. Mr Petes big hard cock fills Jane right up and she loves it! Next things get wild with breath play when Janes head is covered with a plastic bag. Her breathing is a bit labored as Mr Pete plays with her small perky tits and fingers her pussy until she squirts. He tears a hole in the bag and stuffs his thick dick down Janes throat for some deep throat action. Now that Mr Pete has sweet slutty Jane all worked up its time for some serious fucking. With tight nipple clamps on her tits he pounds her pussy out sending her to heaven. He pulls on her sensitive nipples making her orgasms more intense and then he fucks her ass so good it brings out the Wild Anal Seductress that Jane Wilde really is. She can't get enough of his hard cock in her ass. He vibes her pussy with the hitachi making her squirm and moan and finger bangs her until she squirts again! And then holding her by the neck for better traction Mr Pete stretches her ass out with his pounding cock until he shoots his load all over her.
Read More »
---
---

Squirting Submission: Lily Lane Squirt Fucked In Inescapable Bondage
Tattoo alt porn goddess Lily Lane is always hungry to be tied up in brutal rope bondage and fucked senseless by a sadistic male dom. She starts her day perched on one leg dangling by her big tits in the middle of the room. Her male handler wastes no time and quickly begins to work her toned body over brutal impact play and a heavy leather flogger. Lily lets out passionate cries of pain as the most sensitive parts of her body are abused and tormented with masochistic delight. After her skin has been turned pink from the sadistic abuse, the male dom jams a vibrator onto her tiny pink pussy and she immediately begs to cum. She is a pain slut that loves to suffer and serve her master. As her swollen clit continues to be stimulated by the vibrator, her pussy squirts never ending streams of female ejaculation juices. Next Lily is tossed to the ground like a useless rag doll and a massive cock is jammed down her mouth. She is made to squat and choke herself out as she vainly tries to drag herself across the room to gobble her master's cock. Pleased with her submissive devotion to the dick, the sadist allows his female sex slave to consume his cock like a hungry whore desperate for her next meal. He then ties her to a bed with her divine ass exposed for his wanton intentions. He dives right in and begins to abuse her ass with a mean leather riding crop. She begs for mercy, but her pleas fall on deaf ears. Pleased with her slutty devotion, he jams his cock into her hungry pussy until she begs to cum. But the dom denies her orgasm and laughs as Lily withers from the pain of denial. To finish off her day, Lily is tied on her back with her legs spread wide open. As her whore hole gets pounded she squirts again and again until she is sweating and lost in subspace. When her pussy can't possibly orgasm again, the dom blows a massive load of jizz all over her tits and face.
Read More »
---
---

Brand New 18 Year Old Fucks the Machines
Danni is brand new and we couldn't wait to get her in the studio and fuck her with the machines. She has a devilish smile which leads us to believe that she is a dirty little whore, and we are OK with that. We welcome all girls, especially girls that want to have a good time using our machines to have the best orgasms of their lives. She is super cute as she strips for us. Then she starts talking dirty and all of us have our minds blown by how dirty she really is. Danni doesn't hold back with the talking and we can't get enough as we get her lined up for the first position. She begins in a sitting position as we slide the machine between her legs. Her smile says everything as the machine begins to thrust back and forth inside of her tight pussy. She presses the vibe against her pussy and the orgasms flow. Every time we think she has had enough, she climbs back on and begs for more. After one of the most powerful orgasm filled scenes we have shot in a long time, we move on to a doggy position. Her cute ass is amazing to see up the air, so we do what all of you want us to do…we fuck her more! Now that her pussy has been fucked properly, we sit her on top of the alien-faced sybian. Her pussy is satisfied, but she is more than ready for more.
Read More »
---
---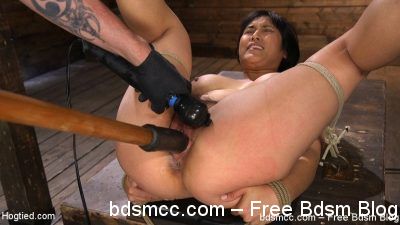 Mia is Bound in Grueling Rope Bondage and Brutally Tormented
Mia is a tough cookie and she's back to prove how much torment she's willing to endure for orgasms. She begins in a standing position that is manipulated into a predicament tie. She is gagged with rope and it too is pulled up with her leg. She is now helpless and The Pope enters to administer some sadistic torment. After her suffering she is made to orgasm until she squirts all over the floor. Next she is tied to the throne with her slutty legs spread extremely wide. Every part of her is vulnerable and The Pope takes advantage of every inch her can. Her pussy and nipples are clamped and punished and then he uses a Wartenberg wheel on her nipples and then proceeds to attack her sensitive soles as well. Tears roll down her pretty face, but that only motivates him to keep doing what he does best. After a few more orgasms we move on to the final scene that has her on her back like the whore that she is. The legs of this particular whore are spread wide with her feet in the air and she is ready for the fucking she is about to receive. The pain is administered with a crop to every available inch of her skin to ensure she is suffering properly. Now that she is overwhelmed and can no longer take the abuse, she is made to cum from getting her pussy fucked hard and fast. The Pope had his way with her, and now that he has no other use for her, she will be discarded like trash.
Read More »
---
---

Corbin Dallas is too horny to focus on his math with his hot tutor watching over him. Lena Kelly catches Corbin drooling over her long legs, big tits and lush lips, and decides the only way to get Corbin through is distraction is to fuck it right out of him. She lets Corbin worship her beautiful feet, which he's a lot better at than calculus, apparently. Corbin's tongue caresses Lena's cute piggies, making her big cock rock hard. Lena fucks Corbin's greedy face hole and let him eat her perfect round ass. Corbin does such a good job pleasing Lena with his mouth, he earns her hard cock in his tight ass. Lena fucks Corbin so hard he leaks his load all over his own stomach. Lena scoops up the cum and shoves it in Corbin's mouth while she fucks his ass to reach her own climax, which she shoots in Corbin's hungry mouth. If there was class on taking lady cock and eating jiz, Corbin would definitely get an A!
Read More »
---
---

Cheyenne Jewel vs Mistress Kara
Welcome to the Summer Vengeance series Tournament on Ultimate Surrender! Today is the moment you've been waiting all summer to see. We have had 13 of this season's finest veterans and rookies in a single knockout seeded tournament. Today we have our #4 ranked wrestler, Cheyenne Jewel, put against our #1 ranked wrestler, Mistress Kara in the season finale. Cheyenne "The Wrangler" is an all-natural, muscular, big assed, brunette hard-body. Her wrestling skills are very good, but she has taken on Kara many times and has never been able to figure out how to stop Kara's signature move. Kara "The Queen" was originally ranked #2 behind Ariel X, but Ariel has had to pull out of the tournament due to injury. Kara is the Queen for a reason. She easily dominates her opponents and then turns them into servants to please her after each victory. She has one move that every single wrestler seems to get stuck in. A move that enables her to keep control while burying fingers deep into her opponents' pussies. She has landed this move on every girl in this tournament. Today, Cheyenne Jewel is able to stop Kara's move. This is her most technical match EVER against Kara. The girls are so even in the arm wrestling that they end up dragging each other all over the mats trying to gain an advantage. The wrestling is the same way. Zero points are scored in the first half of the first round. The girls circle each other and push each other, trying to catch each other off guard. They are tentative and patient. Each girl knows that one mistake can land them in hot water with fingers buried in their pussies. The match ends with a very low score on the board. The winner gets her hand raised and then drags her opponent to the center of the mats for brutal domination. The winner slaps the losers face and hand gags her as well. To show her dominance, she puts her loser into a head scissor and denies her orgasms while she punches her belly. The loser will only be allowed to cum when the winner allows it. Finally the champion allows the loser to cum and then makes her come again and again and again making her have orgasm overload. The loser is weak from the orgasms which makes her prime for putting into brutal submission holds. The winner takes advantage of this and puts the loser into one submission hold after another. She puts her in a choke, a boston crab, a baby swing and a camel clutch. The loser taps out each time. The winner then takes her strap on cock and fucks the loser until she cums more and more. Finally the winner wants her prize. It is her time to cum. The winner rides the losers face until cum is dripping out of her beautiful winner pussy. This is a winner take all match. The winner lifts and carries the loser off the mats and tells her that every night from today on, she is going to fuck the loser just like she did until the fucking loser can finally beat her in wrestling. This punishment is on going until these two meet again on the mats and settle the score there.
Read More »
---
---
---
---
---
---
---